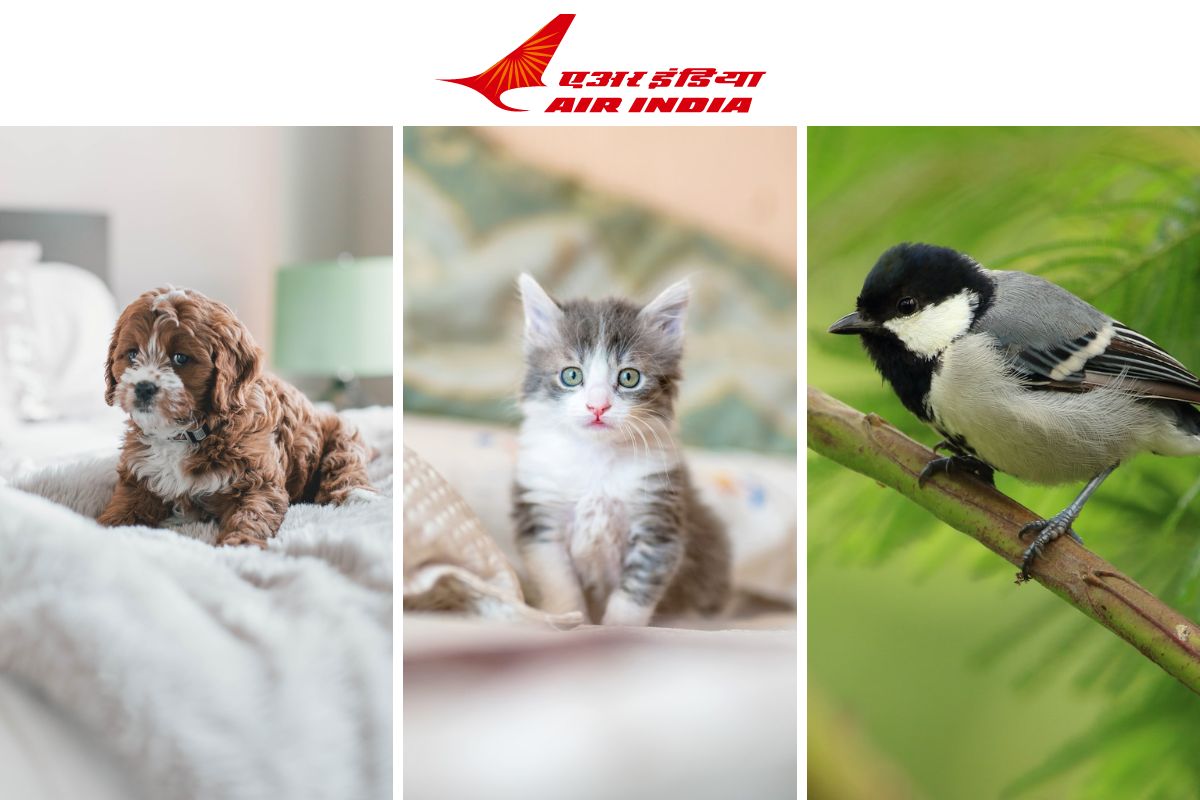 Sometimes, people need to travel with their pets for the love or need of it, or with no options left. One can make memories with their pets through the journey if the travel is via car or private mode. But if it is via air, then there will be several questions to which we need answers. Worry not, as this story will answer most of your questions if you need to fly along with your pet(s). Air India, India's leading airline and a Star Alliance member, has a policy for the carriage of pets on board. Let's now look into the details.
Also Read: Air India Bolsters Connectivity to US and UK
Air India Carriage of Pets on Board:
Passengers can carry small inoffensive domestic pets such as dogs, cats and birds, accompanied by valid Health and Rabies vaccination certificates, on Air India domestic flights in the cabin or cargo hold at the owner's risk and subject to requirements of the airline. The policy for the carriage of pets on board is different for domestic and international. We have tabulated the same for your reference below.
Sl. No
Requirements/Specifications
Domestic Flights
International Flights
1
Pets
Dogs, Cats, Birds
Dogs, Cats, Household birds and other pets
2
Vacciation & Certification
a
Valid Health and Rabies vaccination certificates
Valid Health and Rabies vaccination certificates, entry permits, and other documents required by countries of entry and/or transit
b
The dog and Cat (three months of age and older) must be vaccinated against Rabies more than one month, but within 12 months prior to actual embarkation and all details shall be officially certified or mentioned in the official Health certificate.

Also all other vaccination record/detail shall be officially certified or mentioned in the official Health Certificate.

c
NoC
All Passengers intending to Import/Export pets into/from India from/for all countries as baggage are required to comply with applicable regulations and to have No Objection Certificate / Pre-import Clearance from Animal Quarantine & Certification Service (AQCS) in India.
3
Airports
a
The import/export of pets by passenger's having the requisite clearance & permission can only be done via Airports viz. Bangalore (BLR) / Chennai (MAA) / Delhi (DEL) / Hyderabad (HYD), Kolkata (CCU) / Mumbai (BOM).
b
The import / export of the pets has to be done only from the port/s mentioned on the permission obtained by the passenger.
Example: If the permission to import / export a pet has been granted by the ACQS office in Delhi, then the first port of arrival for this pet will be Delhi only.
4
How to carry Pets
The pet must be properly carried in soft ventilated bags/kennel as per the size below.
5
Kennel Size
Not to Exceed 18" X 18" X 12"
6
Pet Weight
- Cabin
Should not exceed 5 kgs including the container
- Cargo Hold
Pets of Larger size/weight can be carried in the Cargo hold
7
Age of Pets
Dogs and Cats must be atleast 8 weeks of age to travel
8
Pregnant Pets
Pregnant pets are not accepted
9
Number of Pets Permitted
A Maximum of 2 pets are permitted in cabin per flight - one in the last row of First/Business class and one in the last row of Economy class with the accompanying passenger.
A maximum of 2 animals – pets as checked baggage or service dog is permitted per aircraft, subject to health documentation, and No Objection Certificate. This rule is valid for all flights, without exception.
10
Identity
A label will be affixed on the container showing the name of the pet.
The name of owner in the official health certificate must match with the name as mentioned in the ticket of owner to establish ownership
Passenger's booking reference must include a remark indicating that he/she will travel with a PET.
11
Measures to be taken
A moisture absorbent mat must be placed in the container.
The pet dog must be properly muzzled and leashed.
12
Not Allowed
Pets/Dogs will not be allowed to occupy a passenger seat.
13
Carriage of Pets
Pet animals can be carried as an accompanied baggage or shipped as cargo.
14
Booking for Pets
Bookings can be made for pets as accompanied/Excess Baggage through Air India Reservarions.
15
Charges
a
Pets can be carried at an additional charge and will not be considered or included in the Free Baggage allowance, even if the passenger has no other baggage.
b
Normal Excess Baggage charges, would be applicable for carriage of accompanies pets within India.
c
You will be charged for weight of the pet + container + food carried per container.
16
Passengers with Special Requirements
A Trained Guide Dog when properly muzzled and leashed and with health/vaccination certificate, may be carried free of charge if the dog is trained to lead the passenger with impaired vision/hearing and the passenger is dependent on such dog.
A Trained dog or a Service dog to assist blind or deaf passengers will be carried free of charge in addition to the normal free baggage allowance.
17
Carrying Animals for Emotional Support
There is no provision to carry emotional support animals on Air India services.
18
Ultra Long Haul Flights
Carriage of Pets is not permitted either in the Hold or Cabin, on Ultra Long Haul (ULH) Sectors (Direct Flights) the only exception being service dog required to assist the blind or deaf, which may be carried in the cabin.
19
Carriage of Pets -
a
on India - USA - India , India-Canada-India Route
Carriage of pets is not permitted on nonstop flight operated by Air India on the India – USA - India, India-Canada-India route.

The only exception would be service dogs required to assist the blind or deaf, which may be carried in the cabin.

Service Dogs from high-risk countries may be imported only with US CDC's advance written approval (CDC Dog Import Permit).
Only one service dog per flight will be permitted.
Exceptions
For flights transiting Middle East - live birds cannot be carried as accompanied baggage either in the cabin or in the hold.
Live birds may however be permitted as accompanied baggage ex India to the Gulf
b
- into UAE
Carriage of Pet Animals into UAE by air shall be in accordance with the terms and conditions of IATA Live Animals Regulations (LARS) by Air Cargo and not under Baggage mode.
c
- into Sri Lanka
There is a temporary suspension on import of live animals - especially dogs & cats, accompanied with passenger baggage.
Importation is allowed via Air Cargo.
d
- UK & GERMANY
Currently Air India is not authorised to carry Live Animals (including Service Animals) in and out of United Kingdom & Germany, in Cabin or as Baggage / Cargo.
Things to Know:
On Domestic Flights, the carriage of pets is subject to the approval of the commander of the flight.
The carriage of pets on International Routes is at the owner's risk, and Air India will not be responsible for any denial events thereafter.
The owner will assume all the risks of injury, sickness or death of the pet accepted for carriage.
A declaration indemnifying the airline will be obtained from the passenger.
For more information or specific details, you may contact the airline's support.
Also Read: Air India Unveils New Inflight Menu on Domestic Routes
Conclusion:
You can comfortably fly with small pets on Air India domestic flights, provided you follow all the requisites and the commander of the flight gives consent.