The pandemic has forced every passenger travelling via air to face never-experienced situations. The airlines have suspended onboard food offerings as part of the preventive measures and directives. Now that travel is opening up, Airlines not only started offering onboard meals but also refreshing the inflight food menu with new selections.
Air India Express
provides onboard F&B services to passengers through its
Express Cafe
. Generally, passengers have two options to enjoy Food and Beverage offerings onboard – either pre-book or order whatever is available onboard. In this story, let's look into the complete offerings of
Air India Express Cafe
before its transformation journey completes. You can read about Air India and the
transformation journey
of TATA's group of airlines by clicking
here
.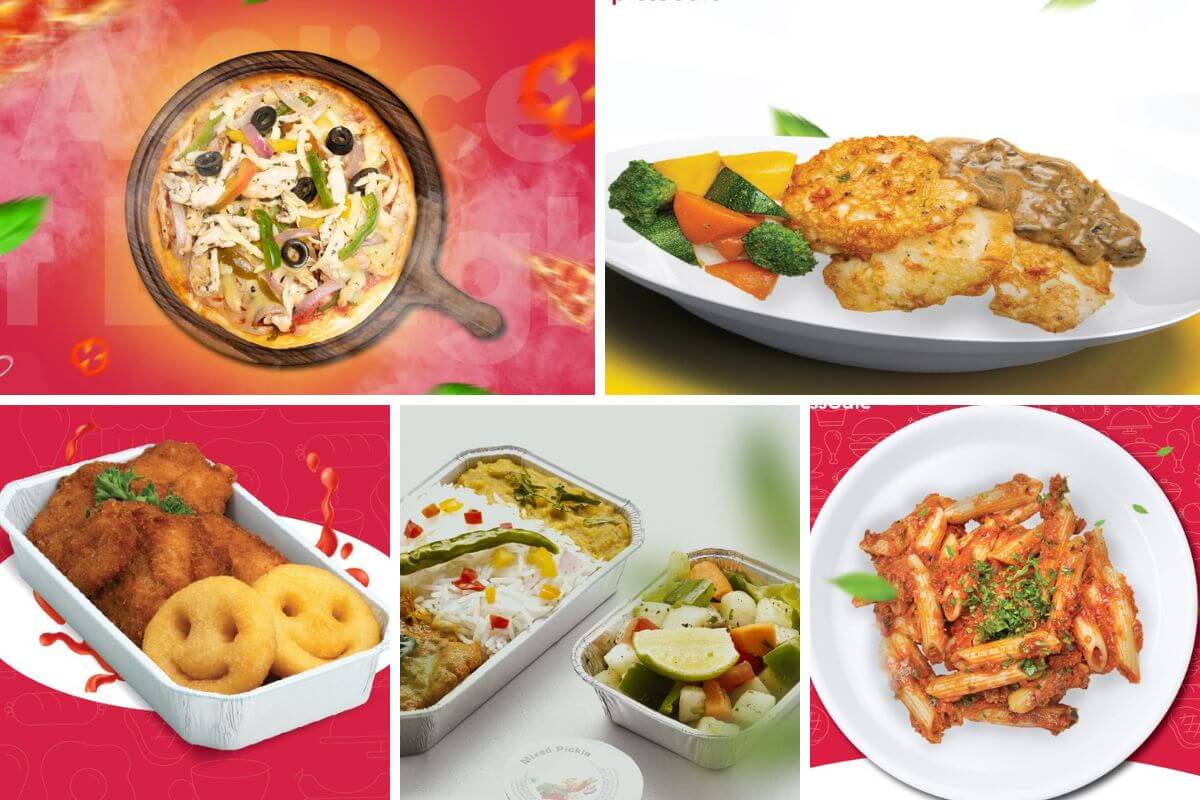 Air India Express Cafe:
At the time of this writing, Air India Express, the low-cost airline, operates across 19 Indian cities and 14 International destinations. Let's see what the airline offers onboard so that passengers can treat their tastebuds to delicious delights.
Sl.No
Pre-Booking Menu
BUY ON BOARD Menu
Veg Breakfast
1
Tomato Rawa Upma
Pepper Vada, Tomato Upma, Sambhar served with Tomato Chutney & Cut Fruits
Non-Veg Breakfast
2
English Breakfast
Vegetable Omelette with Chicken Sausage, Croissant , Butter & Fruit Cuts
Veg Lunch/Dinner
3
Chinese Veg
Cauliflower Manchurian with Vegetable Fried Rice, Tossed Green Salad, Chilly Vinegar & Chocolate Brownie
4
North Indian Veg
Paneer Makhani, Aloo Gobi, Jeera Rice served with Tossed Salad & Paratha and Chocolate Brownie
Non Veg Lunch/Dinner
5
Chinese Non-Veg
Chilly Chicken served with Fried Rice, Tossed Salad, Chilly Vinegar & Chocolate Brownie
6
Mutton Special
Lamb Biriyani served with Raita, Pickle and Chocolate Brownie
7
North Indian Non Veg
Murgh Tikka Masala served with Laccha Paratha & Chocolate Brownie
8
Chicken Biryani
Chicken Biriyani finished with Egg & served with Raita, Pickle & Chocolate Brownie
All Time Favourites
9
Rolled with Love
Chicken Roll – Tandoori Chicken Tikka in white Long roll
10
Pizza (Non-veg)
Chicken, Olives, Onion, Bell pepper finished with cheese (13 cm)
11
Pizza (Veg)
Corn, Olives, Onion, Bell Pepper finished with Cheese (13 cm)
Special Meals
12
Gluten Free Meal
Shish Taouk (Chicken) with Grilled Vegetables, Biriyani Rice & Garlic Sauce
13
Jain Meal
Penne Arrabiata with Bread Rolls and Chocolate Brownie
14
Diabetic Meal
Chicken Piccata finished in Mushroom Sauce with Buttered Vegetables and Cut Fruits.
15
Kids Meal
Chicken Nuggets with Potato Smileys.
Tea/Coffee(Premixes)
16
Tea Masala
17
Tea Ginger
18
Tea Cardamom
19
Tea Low Sugar
20
Green tea
21
Cappuccino
Munchies/Snacks
22
Salted Cashewnuts
23
Roasted Almonds
24
Nachos
Ready to Eat
25
Maggi Veg
26
Maggi Non Veg
27
Sambar Rice
28
Veg Biryani
29
Rajma Rice
30
Upma
31
Chicken Biryani
32
Chicken Curry Rice
Juices/Iced Tea
33
Orange Juice
34
Mixed Fruit Juice
35
Mango Juice
36
Chocolate Milk
37
Lemon Iced Tea
38
Peach Iced Tea
39
Coke
Buy On Board:
Air India Express now offers buy-on-board for its passengers. Buy-on-board menu offers tea, coffee, light meals, snacks, munchies, ice tea, juices and more. Order as you fly!
Also Read
: 
Air India Express to Fly Direct Between Kannur and Dubai
Pre-booking:
As the name suggests, pre-booked meals are only available on prior booking. Hot meals can be booked at the time of flight booking or even later up to 24 hours prior to flight departure through the Air India Express website, booking offices, call centre or travel agents. Pre-booked meals are available on almost all flights; if you are unable to book, it means pre-booked meal is not available on that sector.
Also Check:
Types of Meals Offered On Board Air India flights
Hot and Cold Beverages:
Hot and Cold beverages can be purchased through Buy onboard on select sectors.
Ready to Eat Instant Foods:
Ready to Eat Instant food items are served after mixing with hot water.
Things to Know:
Pre-booked meal can be cancelled up to 24 hours prior to departure with refund. If cancellation happens within 24 hours, there would be no refund as the pre-booked meal would have been uplifted on the flight. Other general terms and conditions apply for F&B offerings.
World Airline Awards – Skytrax
Air India Express
Named
Best Regional Airlines in India / South Asia 2022
at the World Airline awards presented by the international air transport rating organisation – Skytrax. After two years of virtual award ceremonies, the 2022 World Airline Awards event happened at the Langham Hotel in London, United Kingdom.
Conclusion:
Air India Express passengers can pre-book from a range of pre-booking options or choose from special buy onboard menu and beat those mid-air food cravings!