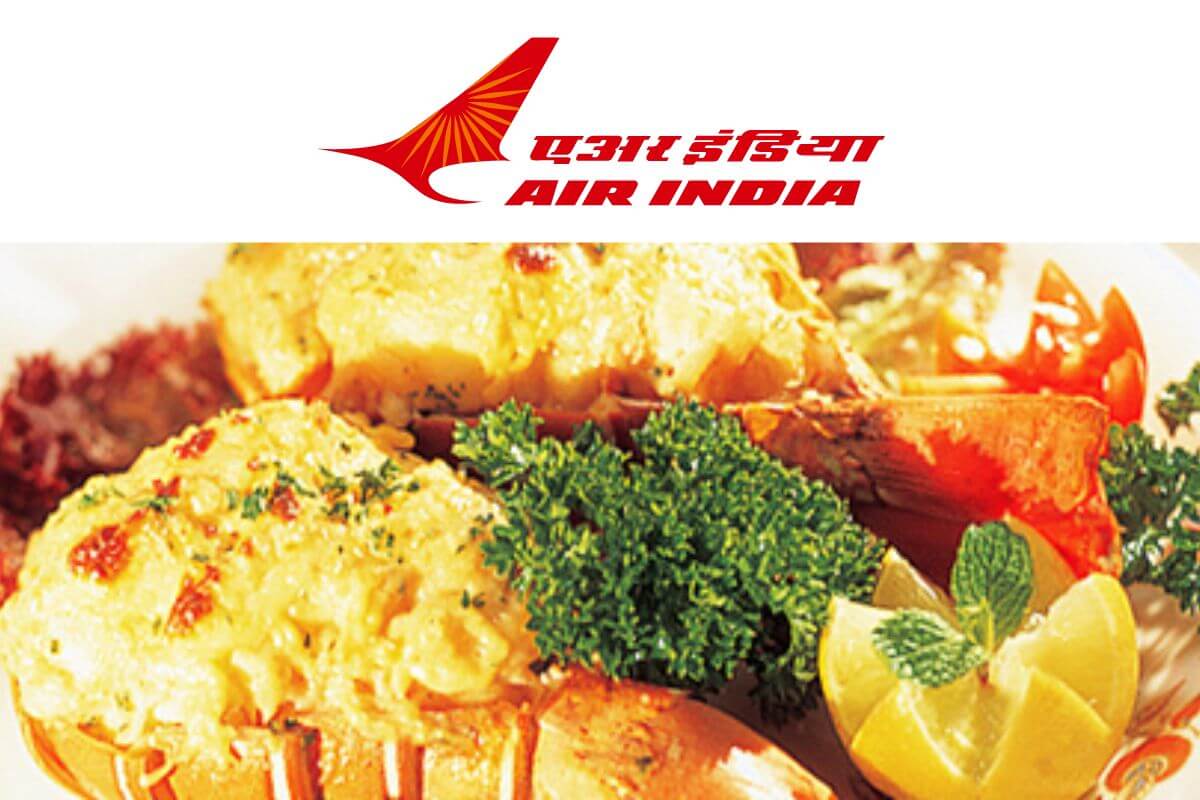 Remember the on board facilities on Air India flights we discussed in our earlier story? We learnt about the seating in First, Executive and Economy Classes, and in this story, we shall look into the types of Meals offered on board. No long journey is complete without the ultimate dining experience, and Air India brings you the Joy of More at your table.
Complimentary Refreshments/Meals on All Air India flights:
India, the land of flavours, takes pride in having a diverse setof culinary skills and tastes. Air India wants you to embark on an epic culinary voyage and rediscover your inner self. To experience the joy of more on an Air India flight, you need to first know the timings for meals, followed by the meal options. For your ease, we have tabulated the same for better understanding.
Air India offers complimentary refreshments/meals on all Air India-operated flights.
Air India Inflight Refreshments/Meals Timings:
| | |
| --- | --- |
| | |
| Breakfast | 07:30 HRS TO 10:00 HRS |
| Lunch | 12:30 HRS TO 15:00 HRS |
| Dinner | 19:30 HRS TO 22:00 HRS |
| | |
| | |
| Breakfast | 05:30 HRS TO 09:30 HRS |
| Hi Tea | 09:30 HRS TO 11:30 HRS & 15:00 HRS TO 18:30 HRS |
| Lunch | 12:00 HRS TO 14:30 HRS |
| Dinner | 18:30 HRS TO 22:30 HRS |
| Supper | 23:00 HRS ONWARDS |
Meals Provided on Domestic Flights:
Domestic Flights
Flight Duration
Business Class
Flight Duration
Economy Class
0 - 120 Minutes
Cold Snacks
0 - 60 Minutes
On Demand Service - Cookies with Tetrapack Drink
61-120 Minutes
Vegetarian Sandwich with Tetrapack Drink
Above 120 Minutes
Hot Meals with Two choices each of Non-Veg & Veg meals.
Above 120 Minutes
Hot Meals with choice of Non-Veg & Veg meals.
 Meals Provided on International Flights:
International Flights
Upto 06 Hours
01 Major Meal
6Hrs to 10 Hrs
01 Major Meal & 01 Minor Meal
10 Hrs & Above
02 Major Meals & 01 Minor Meal
Types of Major Meal
Breakfast, Lunch, Dinner, Hot Snacks , Supper
Types of Minor Meal
Cold Breakfast , Cold Snacks
Religious Meals offered onboard:
Religious Meals
MEAL
DESCRIPTION
1
Asian Veg Hindu Meal
(Indian style vegetarian meal )
Contains vegetables, fresh fruits and dairy products. Does not contain any meat, fish or eggs. Mildly spicy to spicy. Prepared according to subcontinent taste.
2
Hindu Meal
(Indian style non vegetarian meal)
Contains meat (lamb or chicken), fish, eggs and dairy products. Does not contain any beef/pork or its products. Mildly spicy to spicy. Incorporates flavors of Indian sub continent.
3
Kosher Meal
Requires 72 hours prior notice
Prepared to comply with Jewish dietary requirements. Certified in the kosher kitchen.
(Available only on International Flights except to Saudi Arabia & United Arab Emirates)
4
Jain Meal
This meal is for members of Jain Community vegetarian meal without roots /tubers
(oinion, garlic, ginger, peanuts, turmeric, raddish, turnip, potatoes, beetroots etc) and dairy products.
5
Vegetarian Vegan Meal
Contains all types of fruits and vegetables. Does not contain any Dairy products, meat, fish, fowl, egg, animal fat.
6
Moslem Meal
Meals are suitable for Muslims and are prepared in accordance with Halal method. May contain lamb, chicken, fish, eggs, fruits & dairy products. It does NOT contain pork or pig by-products..
Medical & Dietary Meals:
MEAL
DESCRIPTION
1
Bland Meal
(Veg / Non-Veg)
Contains mostly soft food that is easily digestible like mashed potatoes, spinach, soft boiled eggs, boiled meats, toast and dairy products. Does not contain spices, onion or garlic and food that are baked, fried or spicy.
2
Diabetic Meal
(Veg / Non-Veg)
Contains minimum salt, low fat products, high fiber fruits and vegetables. This meal is for passengers suffering from Diabetes.
3
Fruit Platter
Contains seasonal fruits. Suitable for passengers who are fasting or have dietary needs with no additives and preservatives.
4
Gluten Free Meal (Veg / Non-Veg)
Passengers who are intolerant to gluten (a protein found in wheat, barley, oats or rye). This meal contains one or more of ingredients like meat, poultry, fish, rice, dairy products, fruits and vegetables. Contains salt and pepper, herbs and spices, sugars and preserves, margarine and vegetable oils. Does NOT contain breads, pasta, cakes , chocolates etc
5
Lacto-ovo Vegetarian Meal
This meal may contain vegetables, fruits, eggs, pulses & dairy products. Does not contain any type of meat or fish.
6
Low-calorie Meal
(Veg / Non-Veg)
Contains food with high fiber content, less fats and carbohydrates. Does not contain sugar, cream, sauces, mayonnaise, or fatty meats.
7
Low Fat / Low Cholesterol Meal
(Veg / Non-Veg)
Contains margarine, cottage cheese, egg white, boiled rice, potatoes, lean meats, fish, wholegrain bread, cereals and fruit.
8
Low Sodium Meal
Does not contain salt, MSG and baking soda/powder. Meal does not include salty cheese, sauces, dressings, cured & brined meats, canned fruits etc.
9
Non-lactose Meal
(Veg / Non-Veg)
Contains salads, high fiber food, pasta, rice, fish or meat. Does not contain milk and milk products, sauces, soft rolls, croissants or chocolate. Suitable for guests who are allergic or intolerant to milk or milk products.
10
Raw Vegetable Meal
Contains mainly raw vegetables and salads.
11
Seafood Meal
Contains all types of fish or shellfish. Does not contain meat products. Does not apply to breakfast.
12
Vegetarian Oriental Meal
Contains fruits and vegetables. Does not contain meat, fish, eggs or dairy products. Prepared in Chinese or Oriental style.
Meals for Children and Babies:
MEAL
DESCRIPTION
1
Baby Meal
(For children less than 2 years)
Proprietary brands of baby meals are available only on international flights. Parents are advised to carry baby foods familiar to and preferred by their babies. Milk or baby meals can be heated on board.
2
Child Meal
(Veg / Non-Veg)
Burgers, fish fingers, chicken nuggets, French fries, crisps, pizza or chocolate. Suitable for children between the ages of 2 to 12.
Things to Know:
The choice of vegetarian or non-vegetarian needs to be specified with all special meal requests in all classes.
Liquor will not be served on Domestic flights and on International flights Liquor Service will be carried out for all major meal services except for Breakfast.
The type of meal served will be based on the departure of the flight.
Special Meals in economy class will be uplifted only on medical grounds with intimation at least 48 hours before departure.
Seafood meal requests are not entertained in economy class.
Nuts are served on international flights as an accompaniment to drinks, in case allergic, passengers can bring their own meal on board.
Conclusion:
Air India offers you a complete meal experience on board with their inflight food and beverage offerings. You can enjoy a holistic flying experience with these culinary delights and satisfy those food cravings.