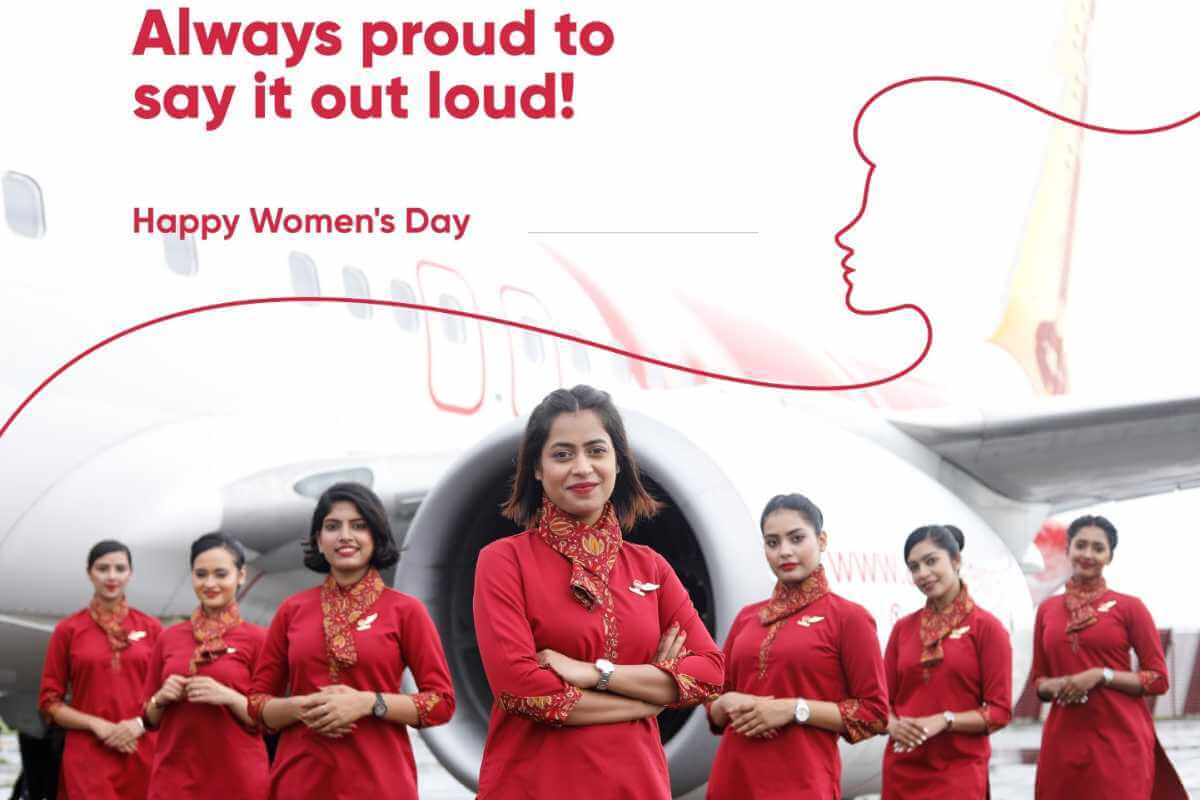 International Women's Day is celebrated annually on March 8th to honour the achievements of women. As a tribute to the spirit of the power of women, Air India, along with Air India Express and AirAsia India have scheduled to operate a total of over 90 all-women crew flights. The number 90 is also related to the 90th Anniversary of Bharat Ratna JRD Tata's first Commercial flight.
DigitALL: Innovation and technology for gender equality
According to the statement, Since March 1st, 2023, the Air India group has been running flights with exclusively all-women crews on both domestic and international routes. This initiative aligns with the 2023 International Women's Day theme of 'DigitALL: Innovation and technology for gender equality,' showcasing the diverse and inclusive workforce of women within the aviation sector and highlighting their valuable contributions.
Also Read: IWPA Felicitates IndiGo for Women Empowerment in Aviation and Aerospace
Largest Number of Female Pilots
Air India's rich legacy of women excelling in every area of its functioning is exemplified by the sheer volume of flights, with all-female crews covering 12 international destinations in addition to most of the domestic destinations this year. Moreover, with women making up over 40% of Air India's workforce, including 275 of its 1825 pilots, representing 15% of the cockpit crew, the airline boasts one of the largest female pilots in the industry. Besides the cockpit and cabin crew, most of these flights will be served by women dispatchers, safety and quality auditors, loaders, engineers, and security as well.
Campbell Wilson, CEO and Managing Director of Air India, said: "India has the largest number of commercial women pilots in the world, and with more Indian women pursuing careers in aviation, we are achieving gender equality in the workforce. We are proud of the women workforce with us at Air India today, and we thank each of them for sending out a powerful message that women can excel in any field."
Also Read: Air India to Acquire 470 Aircraft From Airbus, Boeing
Operated All-Women Crew Flights for the Past 4 Decades
According to the statement, Air India has consistently operated all-women crew flights for international and domestic operations for the past four decades. Notably, Air India has made history by operating the world's first all-women crew flight from Delhi to SFO, as well as a similar flight charting the polar route.
In addition to Air India, its low-cost subsidiaries, Air India Express and AirAsia India have over a third of their workforce comprised of women. Women hold crucial positions in various departments, such as finance, commercial, human resources, customer service, flight training, technology, flight dispatch, engineering, safety, and operations control. Collectively, the two airlines have 97 women pilots.
Aloke Singh, CEO of Air India Express and President of AirAsia India, said: "We strive for an equitable representation of women in our workforce and especially in our leadership. We are particularly proud to have women in key positions in roles that have traditionally been considered male bastions in aviation. We truly believe that diversity is a strength for us, driving collaboration and efficiency. This Women's Day, we are grateful to all those who challenge gender stereotypes. We will continue to encourage gender diversity and will provide a platform for professional growth for our women colleagues. We urge more women to come forward and join us on our exciting journey as we transform Aviation in the country."
Also Read: Air India Crew Appearance Guidelines: Avoid Pearl Earrings for Women and Crew Cuts for Men
Operating over 90 all-women crew Flights
Air India's all-women cockpit and cabin crew are operating over 90 flights, with Air India operating 40 flights across domestic and international locations, while AI Express operates 10 all-international flights to the Gulf route, and AirAsia India operates over 40 flights within India. The Air India group will operate across multiple international destinations, including Abu Dhabi, Birmingham, Dubai, Damman, Jeddah, Male, Muscat, Melbourne, Toronto, Paris, New York, and London, making this a significant milestone in India's civil aviation history.
Other Programs and Activities
Air India
Air India has organized various programs to celebrate, empower, and inspire women to commemorate International Women's Day. These programs include sessions on financial decision-making, being an "Ally at Work," and engaging with women achievers and employees across the network at the workplace. Additionally, breast cancer screenings using AI-led technology are being offered.
Air India Express
Air India Express has planned events at the Kochi International Airport, including an evening dedicated to art, where artist GS Smitha will be honoured for her work as the airline's tail art. Air India Express will also participate in an "All Women Bike Rally" organized by Thiruvananthapuram International Airport.
AirAsia India
AirAsia India is offering all women travellers the opportunity to reserve complimentary Red Carpet Priority Services, including Priority Check-in, Baggage, and Boarding for any bookings or check-in made on the AirAsia India website or mobile app between March 8th and March 15th.