The last time we provided an update about Hollongi Greenfield Airport was in August. The Airport was supposed to commence commercial operations but couldn't due to technical issues. But now, Arunachal Pradesh is set to make its mark in the Indian Civil Aviation space. Read to know why the beginning of this Airport is essential to the North Eastern Region.
Arunachal Pradesh:
Popularly known as the Land of the Dawn-lit Mountains, Arunachal Pradesh is India's remotest state and the first Indian soil to greet the rising sun. Itanagar, the capital of Arunachal Pradesh, is situated at the foothills of the Himalayas and doesn't have an airport, considering the mountainous terrain. Currently, the nearest Airport to Itanagar is Lilabari Airport or North Lakhimpur Airport (IXI), situated in Assam, about 72.6 km (Approx 2 hours) away. Arunachal Pradesh also shares an international boundary with three countries - China, Myanmar and Bhutan.
Hollongi Greenfield Airport:
The foundation stone for the greenfield airport was laid in 2019. Arunachal Pradesh government decided to name the Airport as Donyi Polo Airport. The Airport's name - Donyi Polo - would represent the long-standing cultural legacy and rich customs of the tribally dominant state as a reflection of respect for the Sun (Donyi) and the Moon (Polo). So, Itanagar Airport, also known as Hollongi Greenfield Airport, is officially named Donyi Polo Airport.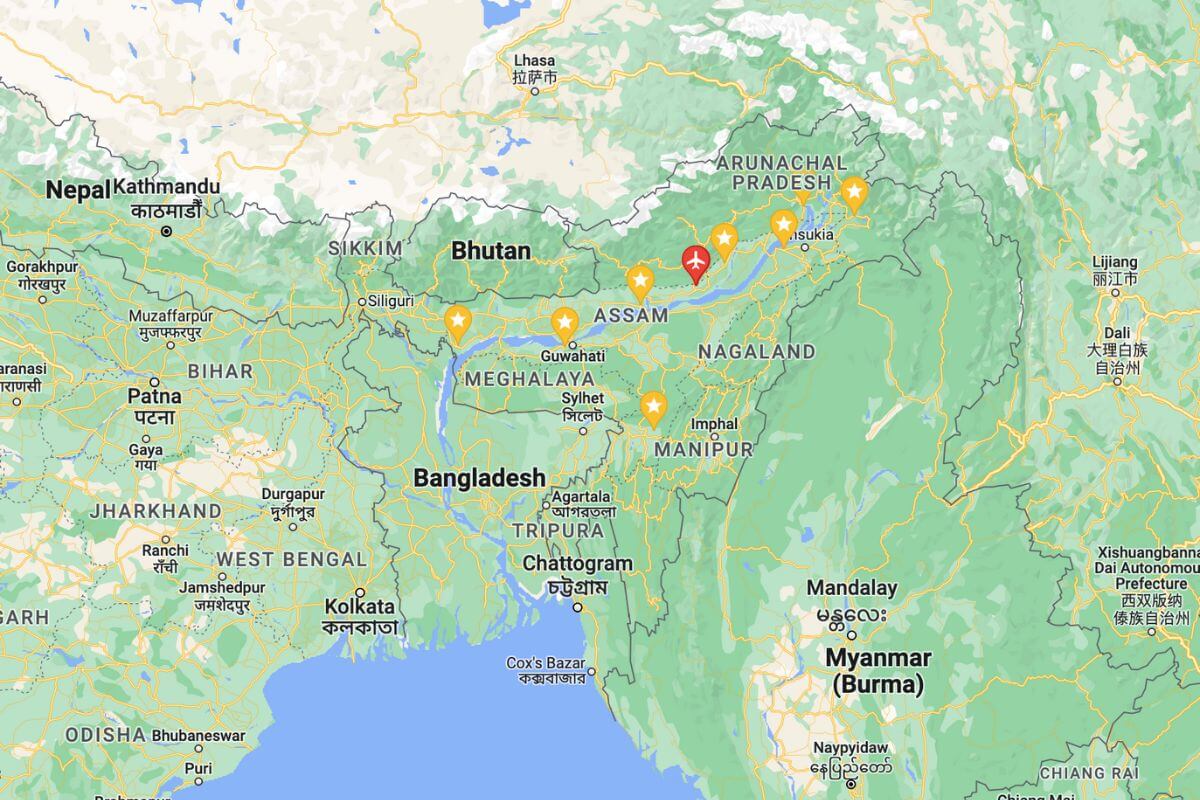 The North-Eastern Connectivity:
The Donyi Polo Airport in Itanagar would be Arunachal Pradesh's third Airport after Pasighat and Tezu Airports and NorthEast India's 16th Airport. The nearby airports (not exhaustive) are marked in the Representative map above.
Tourism:
The Air connectivity to Itanagar will mark a new beginning for Arunachal Pradesh, blessed with many tourist spots and natural scenic locations that will attract many national and international tourists.
AAI's Donyi Polo Airport:
Developed by the Airports Authority of India (AAI) at an estimated cost of Rs 660 crore, the Donyi Polo is a greenfield Airport that will be able to accommodate 300 passengers during peak hours of the day, with eight check-in counters. More about Hollongi Greenfield Airport can be read by clicking here.
IndiGo Flight Test Lands Successfully at Donyi Polo Airport
On October 19, 2022, IndiGo's flight A-320 made its maiden test landing at Donyi Polo airport, Itanagar, Arunachal Pradesh. This will bring a new era of aviation in the North-East region of the country and a boon to the tourism of Arunachal Pradesh.
Also Read: Airport Updates: Noida International Airport Progress, AAI's Special Campaign 2.0 and More
Conclusion:
The Donyi Polo Airport at Hollongi near Itanagar in Arunachal Pradesh is ready to be dedicated to the nation, and we await the inauguration date.