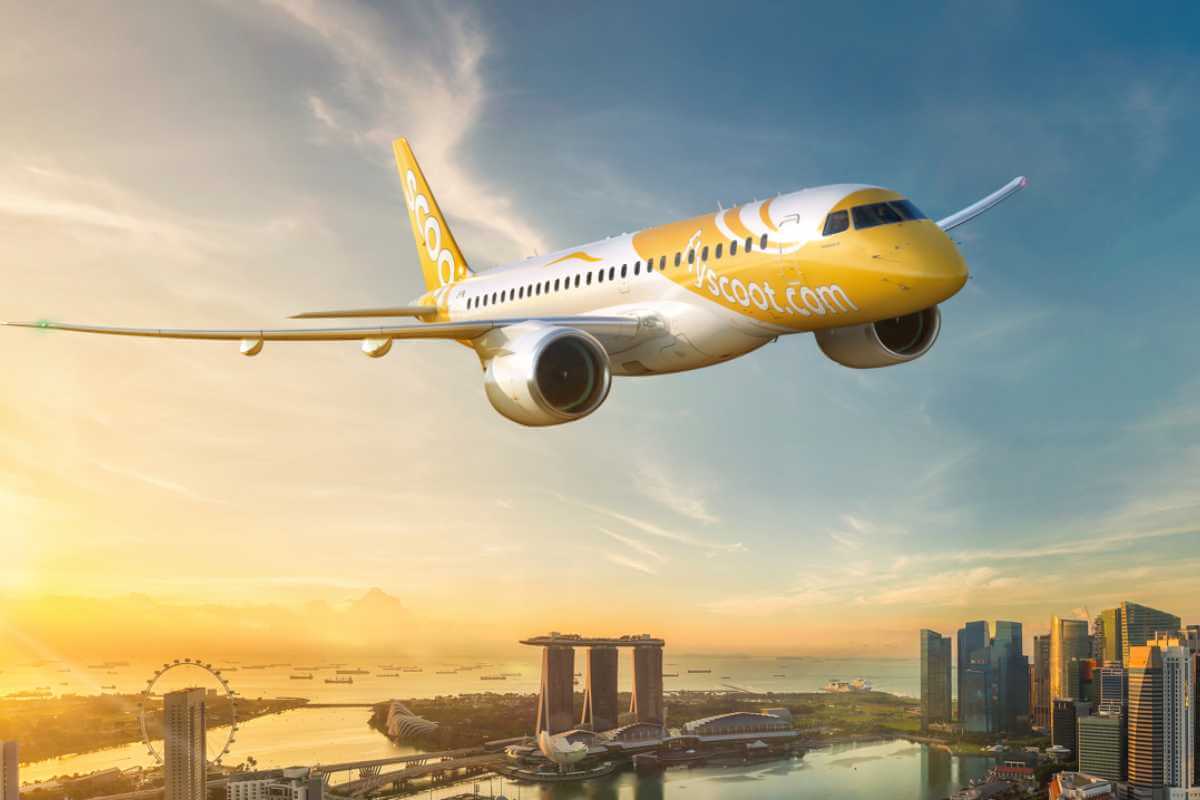 Scoot, the low-cost subsidiary of Singapore Airlines (SIA), has signed a Letter of Intent (LOI) with Azorra, an aircraft lessor, to acquire nine new Embraer E190-E2 aircraft as part of its network growth strategy. The first Aircraft is expected to be delivered in 2024, with the remaining eight set to be gradually introduced by the end of 2025.
First Singapore Carrier to Operate the Aircraft Model
Scoot will be the first Singapore carrier to operate the E190-E2, the latest variant of Brazilian aircraft manufacturer Embraer's popular line of regional jets.
Also Read: Scoot Announces Back to Work Sale to Over 30 Destinations
Embraer E190-E2 Aircraft
The Aircraft can seat 112 customers in a single-class configuration and will be deployed on short and medium-haul flights of up to five hours. This Aircraft will effectively complement the larger Airbus A320 Family and widebody Boeing 787 aircraft in Scoot's fleet of over 50 aircraft, serving thinner routes to non-metro destinations out of Singapore.
Sl. No
About Scoot's E190-E2 Specifications
1
Engine Type

Pratt & Whitney GTF PW1900

2
Number of Seats
112
3
Length (Nose to Tail)
36.3m
4
Wingspan
33.7m
5
Maximum Cruising Speed
0.82 Mach
6
Range
2,850 nm / 5,278 km
Commenting on the Order, Leslie Thng, Scoot's Chief Executive Officer, said, "Expanding Scoot's fleet to include nine new E190-E2 Aircraft enables us to continue operating a modern and fuel-efficient fleet. It also affirms our commitment to offer even more travel opportunities for our customers at the same great value. The new Aircraft ensures that Scoot is ready for growth by enhancing our connectivity in the region and supports the further development of our Singapore hub."
Investment Reflects Growing Demand for Air Travel
Scoot's investment reflects its confidence in the growing demand for air travel in Asia and will enable the Airline to more effectively align its capacity with demand as it improves its regional network. With the addition of Embraer E190-E2, Singapore's status as a prominent aviation hub will be further reinforced.
Also Read: Scoot Joins International Air Transport Association
Scoot offers 59 destinations for travel as of February 2023. The Airline serves a network of 71 destinations across 15 countries and territories in Asia-Pacific, the Middle East and Europe. Scoot attained International Air Transport Association (IATA) membership and joined the community of 300 IATA members across 120 countries in November last year.