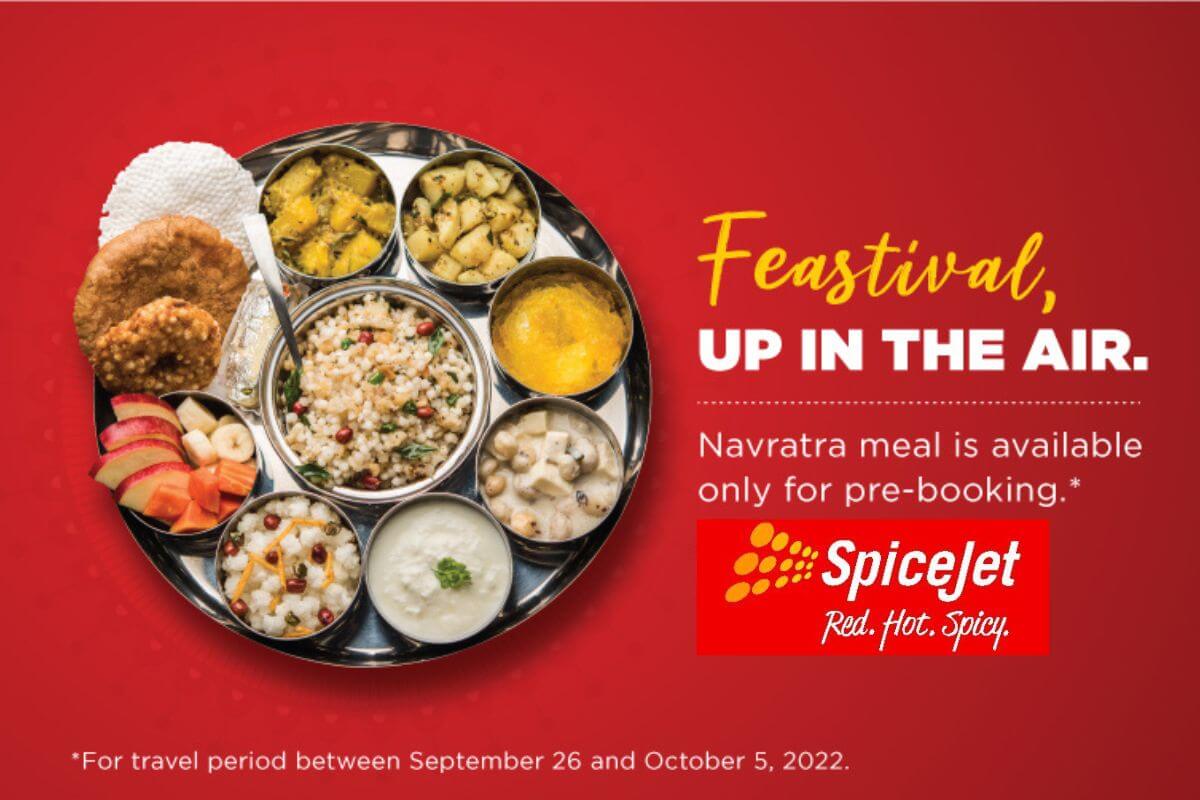 With the festive season around, what could be unique than a festive treat in the air for those who fly and like to enjoy savours in the sky? SpiceJet customers can now pre-book Navratra meal and savour the meal while in the clouds and kick start the festive season. Also, read about the delicious delights available for pre-booking via Spice Cafe in this story.
SpiceJet Navratra Meal for Navaratri 2022:
Passengers flying with SpiceJet can pre-book and relish the Navratra meal for travel between 26th September 2022 and 5th October 2022. Navratra Meal is available only on pre-booking and costs Rs 425. With Spice Cafe's Navratra Meal available onboard, enjoy the Navaratri festival up in the air.
FYI: Sendha namak is used for all Navratra meals.
Now that the context is set, let's also see the food and beverage offerings onboard a SpiceJet flight. SpiceJet brings all your favourite Hot meals and snacks such as sandwiches, cookies, and beverages with an added ingredient- Extra Safety made available through its Spice Cafe.
Also Read: SpiceJet to Connect Jaipur with Udaipur and Jaisalmer with Daily Direct Flights
SpiceJet Spice Cafe:
SpiceJet offers InFlight Food and Beverages through Spice Cafe. Pamper your taste buds by pre-booking from a wide variety of hot meals, sandwiches, and beverages, including a kids meal and more upto 6 hours prior to departure or just pick from the onboard menu.
Sl.No
Pre-Booking Menu
Spice Cafe Domestic On Board Menu
Spice Cafe International On Board Menu
BREAKFAST
1
Raseele chole with mix vegetable parantha & vegetable tikki
2
Egg bhurji with chicken nuggets & mix vegetable parantha
CHEF'S CHOICES
3
Vegetables in red thai curry with steamed rice
4
Vegetable pasta in neapolitan sauce
5
Vegetable daliya
6
Grilled chicken breast with mushroom sauce, yellow rice, sautéed carrots & bean
7
Chicken in red thai curry with steamed rice
8
Chicken Schezwan on bed of fried rice
9
Tandoori chicken tangri with chicken haryali tikka & vegetable shami kebab
10
Tawa fish masala on bed of steamed rice with tadka masoor dal
SPECIAL MEALS
11
Navratra meal
12
Vegetarian diabetic meal
13
Non-vegetarian diabetic meal
14
Jain hot meal
15
Non-vegetarian gluten-free hot meal
16
Vegetarian gluten-free hot meal
17
Fruit platter
18
Vegetarian low-cal salad
19
Non-vegetarian low-cal salad
20
Kid's meal
21
Eggless cake
22
Jain Sandwich
23
Gluten-free dhokla
SANDWICH
24
Vegetable junglee sandwich in white bread
Vegetable Junglee Sandwich in White Bread
25
Roast chicken, sundried tomato and basil sandwich
Roast Chicken, Sundried Tomato and Basil Sandwich in Marble Bread
SNACKS
26
Kadai paneer khurchan
with masala kulcha
27
Chicken khurchann
with aloo parantha with vegetable kebab
LUNCH/DINNER
28
Paneer methi malai
with jeera rice & dal makhani
29
Chicken methi malai
with jeera rice & dal makhani
30
Kadai paneer
with vegetable pulao & dal Amritsari
31
Kadai chicken
with jeera rice & dal amritsari
32
BEVERAGE
33
Munchies
Cookie Man Cookies
a
- Double Choc Chip
b
- Blueberry
c
Crazy Cashew Roasted Salted
d
Cornitos Jalapeño Nachos & Salsa Dip
e
Dukes Waffy Coffee Flavoured Rolls
Ready to Eat
34
Nissin Cup Noodles
a
- Spicy Chicken
b
- Mast Masala
35
Yu
a
- Three Cheese Pasta
b
- Gajar Halwa
36
MOM
a
- Kanda Poha
b
- Rava Upma
Beverages
37
Real Active
a
- Orange Juice
b
- Multi Fresh Juice
38
Raw Pressery
a
- Alphonso Manho Juice
b
- Mixed Fruit Juice
39
Chaayos
- Masala Chai
40
Continental
- Cappuccino
41
Coca-Cola
- Aerated Drink
Available only on select international flights
42
Budweiser Beer
43
Miniatures
a
- Johnnie Walker
b
- Black Label Whisky
c
- Red Label Whisky
d
- Glenfiddich Whiskey
e
- Glen Moray 12YO Whiskey
f
- Absolut Vodka
g
- Stolichnaya Premium Vodka
Celebrations: Cake in the Sky
To make the journey more memorable, SpiceJet also offers pre-booking cakes to celebrate at 36,000 ft so that you can give a pleasant surprise to your loved one(s). The cake, if pre-booked, will be delivered onboard by SpiceJet's cabin crew. Contact them in case you wish to surprise your loved one(s).
Kids Meal:
Kid's meal includes a vegetarian mini burger, a chocolate milkshake, a chocolate bar and a pack of ragi bites, along with a takeaway airplane-shaped bag.
Read about services offered by SpiceJet: 1. SpiceMax Benefits 2. Spice Assurance 3. SpiceJet Private Charter 4. SpiceJet SpiceScreen 5. SpiceJet Zero Cancellation
Things to Know:
Prices are inclusive of all applicable taxes.
If the pre-ordered meal is not made available onboard to the passenger, SpiceJet will offer an alternate meal or a full refund (by way of a voucher of the equivalent value) at its discretion.
Hot meals are available only for pre-booking on Boeing flights with a block time of 76 minutes and above.
Hot beverages are available on Boeing flights with a block time of 51 minutes and above, and on Q400 flights with a block time of 76 minutes and above.
Coins are not accepted, and for payments made using credit/debit cards, in the event of any failure or decline or rejection of any such payment by the concerned bank, it is the sole responsibility of the passenger to make the declined payment.
T&C:
Other General terms and conditions apply.
Conclusion:
With Spice Cafe, pamper your taste buds by pre-booking from a wide variety of hot meals, sandwiches, and beverages, including a kids meal, or surprise your loved one(s) with a Cake onboard!