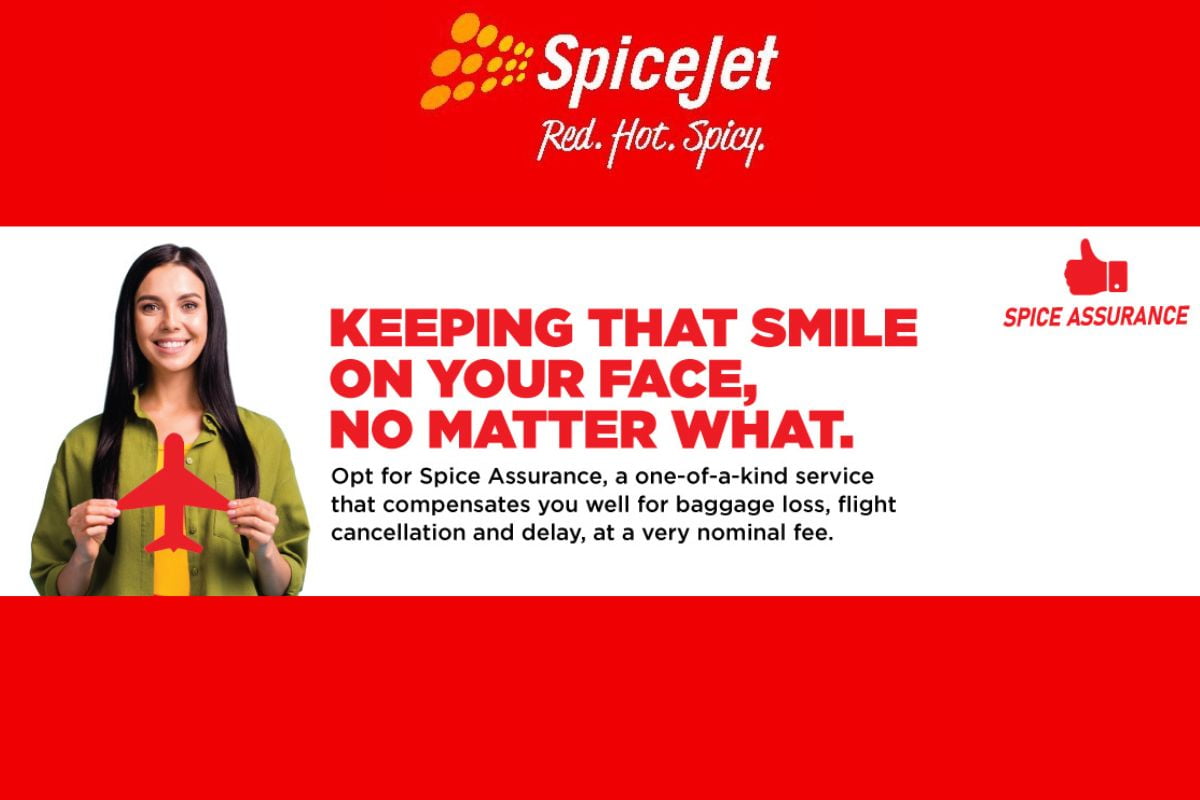 SpiceJet has a range of ancillary services to enhance customer convenience and experience. Generally, these services are available at different price points based on the benefits they offer, and it is up to the customer to opt for a service or not.
For an airline catering to the needs of diverse passenger groups, different services for different uses means enhanced customer experience so that passengers love to fly with the airline! Ancillary Services is one segment where SpiceJet excels.
In this story, let us look into the benefits of SpiceJet's Spice Assurance.
What is Spice Assurance?
Spice Assurance is a one-of-a-kind service that compensates passengers well for baggage loss, flight cancellations and delays beyond the usual compensation amounts at a nominal fee.
Spice Assurance Benefits:
Sl.No
Benefits
Spicejet Assurance Benefits
1
Trip Cancellation
Rs 1000/- Voucher on cancellation
2
Baggage Loss-Check in
Get 25% premium payout @Rs.250/kg – Max of Rs.3750 as compared to the normal pay out of Rs.200/kg on such loss to the passenger.
In case of excess baggage opted, user is allowed extra as opted.
3
Flight Delay
60-119min = Rs 500/- Voucher (in case of delay)
>=120 min = Rs 1000/- Voucher (in case of delay)
Spice Assurance Charges:
Spice Assurance is a pre-paid service and can be availed on the payment of refundable fees of Rs 49 per passenger, per one-way only.
How to avail the Service?
Spice Assurance can only be bought either on corporate.spicejet.com or via SpiceJet's reservations. Spice Assurance service can be purchased by the passenger while/after making the flight booking.
You can retrieve the booking using the PNR, Email/Last name and Add Spice Assurance to your booking. The service can be purchased latest up to one hour before the scheduled departure of the flight.
Things to Know:
Spice Assurance is only available for domestic flights.
The Voucher issued shall be valid for 90 days, from and including the date of its issue, post which it shall automatically lapse.
The service is not available for infants.
T&C:
In the event of delay subsequently leading to cancellation, there shall be only One Voucher issued per passenger for cancellation of the flight and the Voucher value for delay shall not be clubbed. Other General SpiceJet terms and conditions apply.
Other Services we recently discussed: SpiceJet SME High Flyer Program, SpiceShuttle, SpiceJet Private Charter Service, SpiceJet Taxi Service.
Conclusion:
More than a service, Spice Assurance is a kind of promise from SpiceJet that conveys that the airline will fly you to your destination on time, and they know how a baggage loss or a delayed/cancelled flight can affect your travel plans.