Naukri has released its JobSpeak Report, a monthly Index that calculates and records hiring activity based on the job listings on Naukri India, for July 2022. The report contains hiring trends across industry sectors, geography, and experience level. As we focus on the Travel and Hospitality Sector, let us look into what the data says.
Overall:
The job market in India continues with its upward trajectory as the Naukri JobSpeak Index for July beats all past records. At 3170, the index surpassed its previous high of 3074, which was recorded in February 2022 this year. With rampant growth across key sectors and metros, the hiring activity shot up in the previous month, leading to a +21% Y-O-Y growth in July 2022 vs July 2021.
Travel & Hospitality Sector: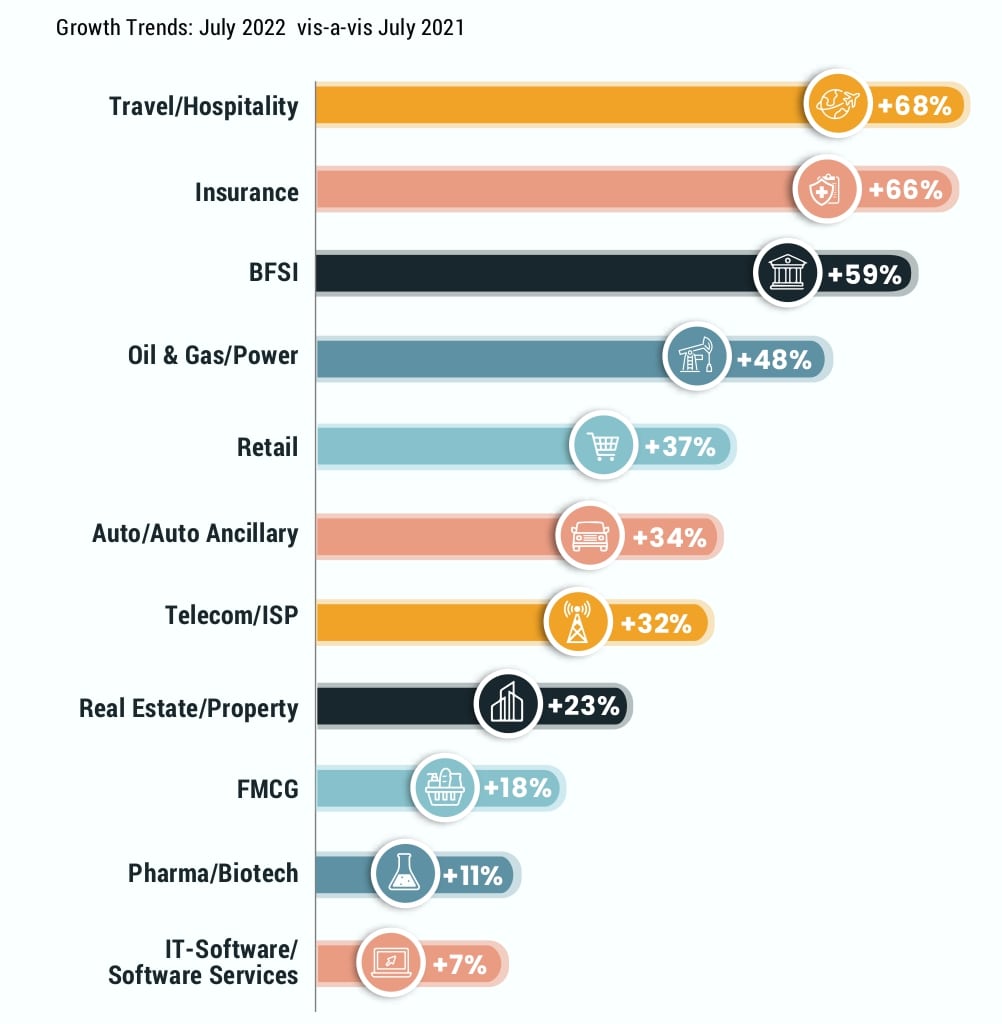 The Travel & Hospitality Sector (+68%) continued to show an upward trend over July last year. Travel & Hospitality leads the charts at 95% growth in hiring activity, followed by Insurance (65%) and BFSI (52%).
Hiring in metros stays strong, Kolkata leads
Since the beginning of 2022, most key centers have been exhibiting positive hiring sentiment by registering an upward trend and marking double-digit growth. Among metros, Kolkata led the charts with 42% Y-O-Y growth in July 2022. Other metros such as Mumbai (+36%), Delhi/NCR (+25%), Chennai (+25%), Pune (+24%), Hyderabad (+12%), and Bangalore (+10%) too, continue to show positive growth in June 2022 vs last year.
Amongst the emerging cities, Coimbatore continues to lead the race consecutively for the second time by observing the highest Y-O-Y growth of 70% and sequential growth of 31%. Other tier-II cities, such as Kochi (+32%), Ahmedabad (+22%), and Vadodara (+11%) also witnessed a surge in hiring growth, barring Chandigarh that showed a decline of -11%.
Demand for Leadership roles at an all-time high:
While the job market continues to reflect optimistic hiring patterns across all experience brackets, the demand for top management (>16 years) and professionals with 13-16 years' experience saw the steepest uptick of +32% and 31% respectively in July 2022 vs July 2021.
While unprecedented growth was observed in hiring for the highly experienced, a positive hiring sentiment was also observed for other experience brackets such as 0-3 years (+20%), 4-7 years (+18%), and 8-12 years (+24%) when compared with July 2021.
Commenting on the report, Pawan Goyal, Chief Business Officer, Naukri.com, said, "With the JobSpeak Index breaking all records, it validates that the employment market is on a steady course without any significant hotspots. The trend in growth is seen across most industries, cities and experience bands which is great news for the job seekers."
A good start for the Hospitality & Travel Industry!