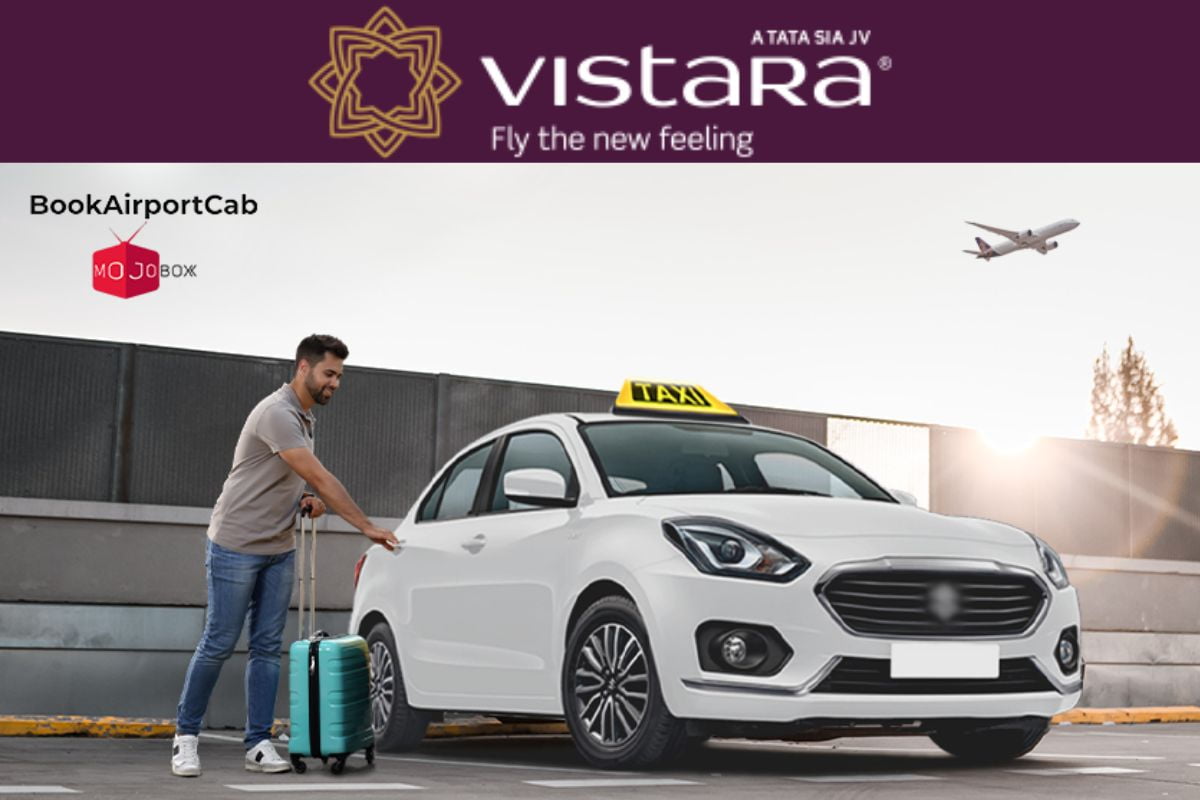 Vistara, India's finest full-service carrier, continuously strives to enhance the consumer experience by introducing new services and products. In one such move by Vistara to provide hassle-free assistance to passengers transiting to and from the airport, the airline has collaborated with BookAirportCab to offer airport taxi service. Read to know the full details of the service.
Also Read: Vistara Inaugurates Its Direct Service Between Mumbai and Abu Dhabi
Vistara Airport Taxi Service By BookAirportCab
Vistara has collaborated with BookAirportCab, its new airport cab transfer partner, to make your travel experience even more convenient and hassle-free. With this airport taxi service, your trips to and from the airport will be made easy and comfortable at the best prices.
Advantages of choosing BookAirportCab:
Simply put, there are four advantages if you choose BookAirportCab, powered by MojoBoxx.
100% confirmed cab - Book anytime and Get 100% confirmed cab.
Zero waiting time - You don't need to wait for the cab, it already waits for you.
No cancellations - Stress free rides with zero cancellation by the driver.
100% refund till pick-up time - Cancel any time until pickup time with zero cancellation charges.
BookAirportCab
BookAirportCab currently serves 200+ cities with its fleet of 82K+ cabs and caters to various cab needs, such as for the Elderly, Single Women travellers, the Specially Abled and Kids.
WhatsApp or SMS Communication:
If you have opted for WhatsApp or SMS communication :
You will have an option to reserve a confirmed cab as soon as you book a Vistara flight
You will receive a reminder 24 hours before the departure flight.
You have an option to book a confirmed cab for your arrival destination 30 minutes before your departure flight to make your travel hassle-free.
Club Vistara Member Benefits:
Club Vistara members enjoy up to 5 CV Points on every INR 100 spent and up to 10% off on the first booking. Even if you are not a CV member, you can still book the airport cab at the time of booking your Vistara flight and retro-claim the CV Points within six (6) months of availing of the service.
Also Read: Vistara Inaugurates Its Mumbai – Jaipur Flight Service
Steps to earn CV Points:
Step 1: Visit BookAirportCab - at vistara.bookairportcab.com - and select cab services
Step 2: Provide the required details to book your cab and enter your Club Vistara ID on the payment page
Step 3: CV Points will be credited within 60 days of availing of the service
Things to Know:
Vistara is not an agent or an intermediary of BookAirportCab.
For any booking-related queries, customers can write to airvistara[at]bookairportcab[dot]com or call the number provided by the service provider.
T&C:
Other general terms and conditions apply.
Read about other Services and Benefits offered by Vistara: 1. Vistara Woman Flyer 2. Vistara Baby on Board Service 3. Vistara Direct Booking Benefits 4. Vistara Student Discount 
Conclusion:
Vistara also offers Car rental services in collaboration with Urban Drive, a newly launched brand of Eco Rent a Car, and Avis, an American car rental company. By collaborating with various car rental service providers, Vistara is endeavouring to offer Cab services to cater to diverse customer segments.
Don't Forget: Vistara Is Rewarding Customers for Flying Premium Economy With 50 Percent Discount Coupons