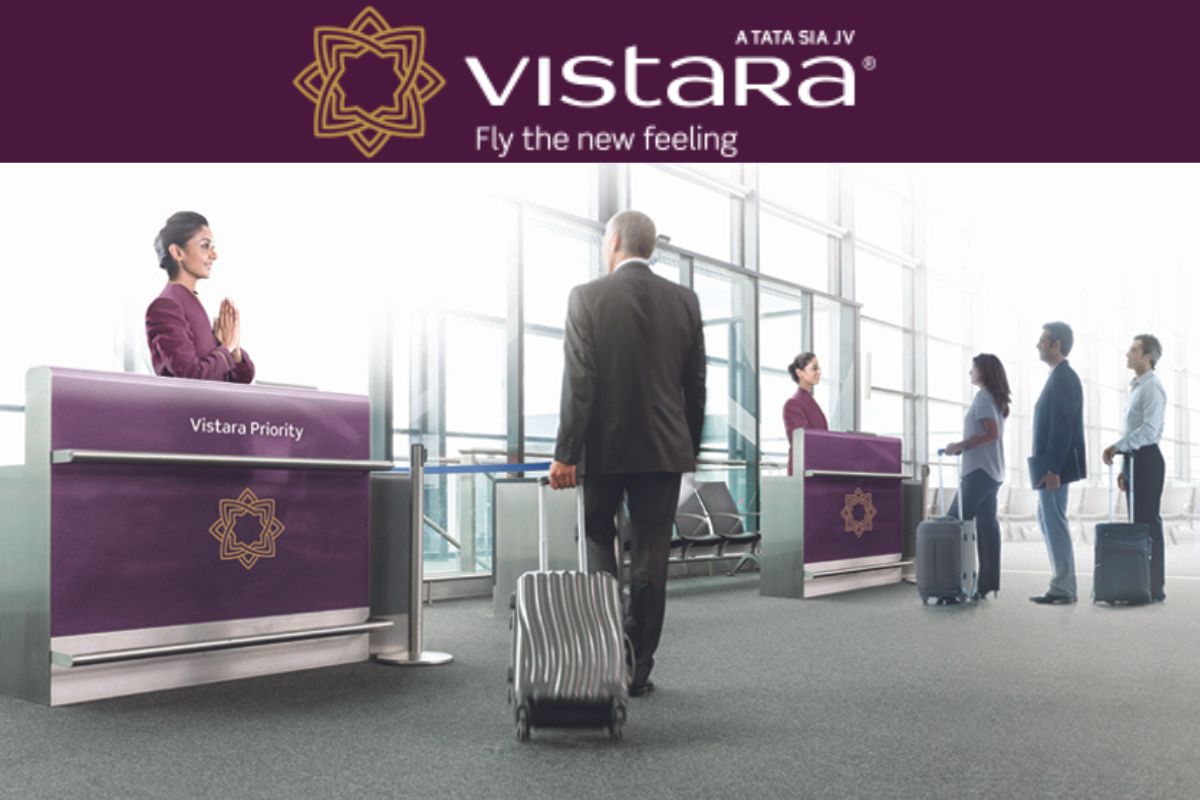 There are always chances that we face unforeseen situations. We may be at our regular pace on the day of ticket booking and must have causally opted for an Economy class. But what if you face completely unexpected scenarios on the day of your travel? If you are a frequent flyer, you can understand the situation very well. How about a tiresome day when you cannot handle unforeseen events or long queues? Exactly, this is when
Vistara Priority Service
comes to the rescue.
What is Vistara Priority Service:
With
Vistara's Priority Service
, you can beat the queues and enjoy priority check-in, boarding and baggage handling to make your journey seamless and hassle-free. These facilities are complimentary for all Business Class, Premium Economy (for travel in India), Club Vistara Platinum and Gold members, and Singapore Airlines KrisFlyer PPS and Gold members (for travel within and outside India) and don't come with Economy class. Worry not if you are a
Vistara
Customer, as they offer Vistara Priority. With Vistara Priority, you can enhance your Economy Class experience. As part of Vistara Priority, you can eliminate the stress of waiting in long queues and enjoy the following benefits. Vistara Priority lets you experience the below 3 Priority Services:
Priority Check-in: You can experience faster and seamless check-in through Vistara's exclusive Premium Economy counter.
Priority Boarding: You can board the aircraft on priority, along with Premium Economy customers.
Priority Baggage: Expedite your baggage delivery on arrival so that it is first off the belt.
How to Avail/Add the Service:
You can purchase the service at Vistara's airport ticket offices for a nominal fee of Rs 600 up to 60 minutes prior to your flight departure. You can also purchase Vistara Priority in advance from Vistara's website or mobile app and enjoy a 33 percent discount. You can retrieve your booking via
Manage My Booking
, using the Booking Reference Number or Passenger Last Name and purchase the extra service.
How to Avail the Service after purchasing the Extra Add-on:
Passengers who purchased Vistara Priority must proceed to the 'Premium Economy' counters to check in.
Vistara Priority customers must carry the Priority handling confirmation email with them for availing the service at the airport.
Things to Know:
Vistara Priority Service is applicable only for travel within India.
This service is valid on direct routes, and for connecting flights, the service would need to be purchased separately for individual legs.
T&C:
This service is not applicable for passengers booking under Economy lite for domestic travel. Other general terms and conditions apply. Vistara's Other Services that we discussed earlier: 1.
Vistara Woman Flyer
, 2.
Vistara Baby on Board
, 3.
Vistara Purple Ticket
.
Vistara to Fly Daily Direct Between Mumbai and Abu Dhabi, Starting 1 October 2022
Vistara announced daily non-stop flights between Mumbai and Abu Dhabi, UAE, starting 1 October 2022. The airline recently emerged as the second largest domestic airline by 
market share
. The company is celebrating its achievement of crossing the 1 million domestic passengers mark in July for the first time.
Conclusion:
Now, Economy passengers can beat the queues and enjoy priority check-in, boarding and baggage handling facilities, just like higher class passengers using Vistara Priority. This one-time add-on can be of help in those unexpected situations.