IndiGo on Tuesday announced the launch of a new flight connecting Mumbai and Durgapur, along with the resumption of operations between Mumbai and Kannur, effective July 1, 2023. IndiGo has also introduced additional frequencies on various routes, including Dehradun-Mumbai, Leh-Mumbai, Srinagar-Mumbai, Hyderabad-Mumbai, Jammu-Mumbai, Ranchi-Mumbai, Varanasi-Mumbai, Nagpur-Mumbai, and Amritsar-Mumbai, starting from June 3, 2023.
Also Read: IndiGo Places Largest Order for 500 Airbus A320 Family Aircraft
IndiGo says these new routes aim to increase capacity during the peak season while keeping fares affordable for passengers. With these additions, IndiGo now operates 155 domestic flights and 20 international flights to and from Mumbai.
IndiGo Mumbai New Frequencies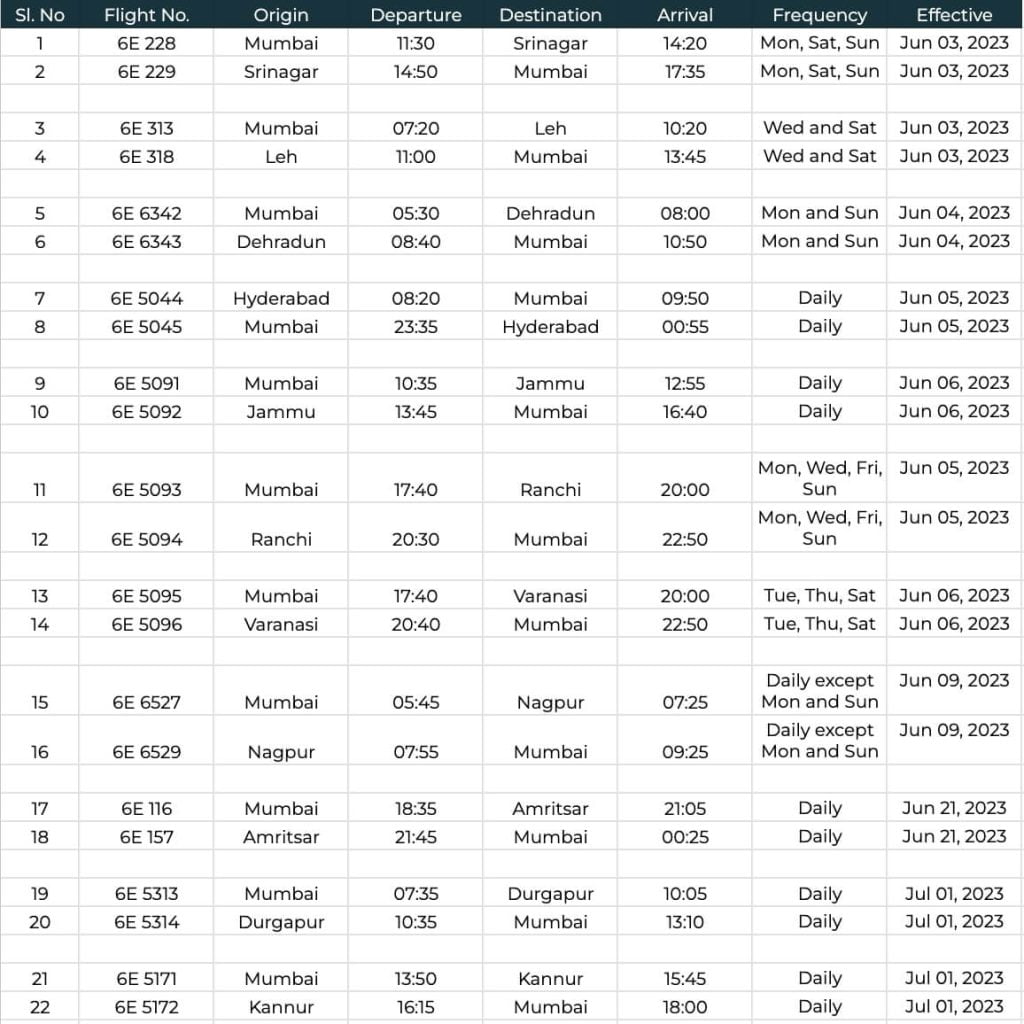 Vinay Malhotra, Head of Global Sales at IndiGo, expressed pleasure in announcing these frequency additions. He said, "We are pleased to announce these frequency additions, which will further aid trade and commerce. India's commercial capital, Mumbai, is also a popular tourist destination, offering a diverse selection of attractions and experiences. Increased accessibility will also support Maharashtra government's vision to make Mumbai a tourist hub and spur job creation. We strongly believe that increased accessibility contributes to economic growth and will continue to offer more flight options to our customers across an unparalleled network."
Also Read: IndiGo Launches Luxury 6Experiences in Partnership With Sula Vineyards and Fratelli Vineyards
Mumbai Tourist Attractions
Mumbai, known as the city of dreams and the commercial capital of India, holds immense historical and cultural significance. It is also renowned as the heart of the Bollywood film industry.
Tourists from all around the world flock to Mumbai to explore its iconic landmarks, including the Gateway of India stone arch, the revered Shree Siddhivinayak Temple, the majestic Haji Ali Dargah, the ancient Kanheri Caves, the mesmerizing Elephanta Caves, the thrilling EsselWorld amusement park, the picturesque Marine Drive, and the tranquil Hanging Garden. The city is also blessed with serene beaches like Juhu, Versova, Aksa, and more, attracting visitors seeking relaxation and recreation.
Conclusion
With the launch of the new Mumbai-Durgapur flight, increased frequencies on multiple routes, and the wide array of attractions in Mumbai, IndiGo aims to enhance travel options, promote tourism, and contribute to the economic growth of the region. With this, IndiGo now operates over 170 daily flights to and from the city of dreams, Mumbai. Passengers can now enjoy convenient and affordable air travel while exploring the vibrant city of Mumbai and its captivating offerings.