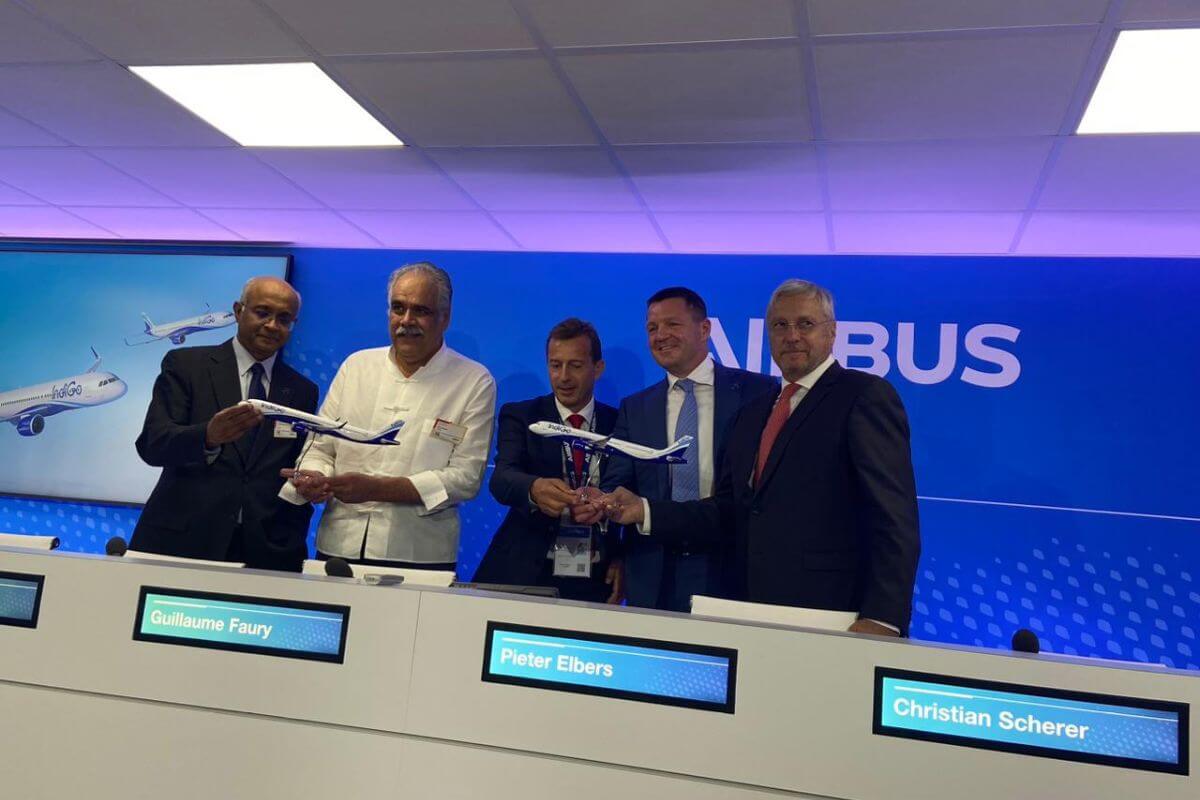 IndiGo, India's most preferred airline, has today announced a firm order for 500 Airbus A320 Family aircraft, taking significant steps for its long-term future. The airline says this deal not only marks IndiGo's largest order but also represents the largest-ever single aircraft purchase by any airline with Airbus. According to the statement, the order will provide IndiGo with a consistent flow of deliveries from 2030 to 2035, contributing to the airline's continued growth and success.
Also Read: IndiGo Commences Operations From Nashik; 77th Domestic Destination on 6E Network
IndiGo's Milestone Order: 500 Airbus A320 Family Aircraft
With over 300 aircraft already in operation, IndiGo has existing orders for 480 aircraft to be delivered by the end of this decade. By adding the firm order of 500 aircraft for the period of 2030-2035, IndiGo's order book reaches an impressive count of nearly 1,000 aircraft to be delivered well into the next decade. According to IndiGo, the order encompasses a combination of A320NEO, A321NEO, and A321XLR aircraft, showcasing IndiGo's commitment to a versatile and efficient fleet.
The evaluation of offers was conducted in collaboration with IndiGo's board and subsequently received their endorsement. This latest order signifies a deeper and broader strategic relationship between IndiGo and Airbus. Since its establishment in 2006, IndiGo has now amassed a total of 1,330 aircraft orders with Airbus.
Also Read: IndiGo Modifies Red-Eye Flights From Goa to Leisure Friendly Schedule
Commitment to Sustainability and Efficiency
IndiGo says the selection of the fuel-efficient A320NEO Family aircraft aligns with its focus on lowering operating costs and ensuring exceptional fuel efficiency while maintaining high standards of reliability. By operating a young and fuel-efficient fleet, IndiGo aims to achieve its sustainability goals and has already reduced CO2 emissions by 21 percent between FY16 and FY23.
IndiGo anticipates welcoming 100 million customers on board this year, playing a pivotal role in boosting the nation's connectivity. As one of the fastest-growing airlines globally, IndiGo says this aircraft order positions the airline for continued expansion and growth for years to come.
Contribution to India's Aviation Leadership
According to the statement, India's economy is projected to grow further from its current position as the world's 5th largest to the 3rd largest by the end of this decade. Recognizing the potential, Prime Minister Modi has set a mission to establish India as a global aviation hub with cutting-edge infrastructure. With its current fleet and the forthcoming delivery of nearly 1,000 aircraft, IndiGo is uniquely positioned to contribute to the realization of this mission by expanding its network and supporting India's aviation leadership on the world stage.
Also Read: IndiGo Announces Mumbai-Silchar and Delhi-Itanagar Flights
Pieter Elbers, CEO of IndiGo, expressed the significance of this historic order, stating, "It is difficult to overstate the significance of IndiGo's new historic order for 500 Airbus A320 Family aircraft. An order book now of almost 1,000 aircraft well into the next decade enables IndiGo to fulfil its mission to continue to boost economic growth, social cohesion, and mobility in India. This order strongly reaffirms IndiGo's belief in the growth of India, in the A320 Family, and in our strategic partnership with Airbus."
The purchase agreement for the 500 Airbus A320 Family aircraft was signed on June 19th at the Paris Air Show 2023. The signing ceremony was attended by V Sumantran, Chairman of the Board of IndiGo, Pieter Elbers, CEO of IndiGo, Guillaume Faury, CEO of Airbus, and Christian Scherer, Airbus' Chief Commercial Officer and Head of International.
Also Read: Air India to Acquire 470 Aircraft From Airbus, Boeing
As IndiGo fortifies its position in the aviation industry with this massive order, it solidifies its commitment to providing exceptional service, connectivity, and support to India's burgeoning economy.