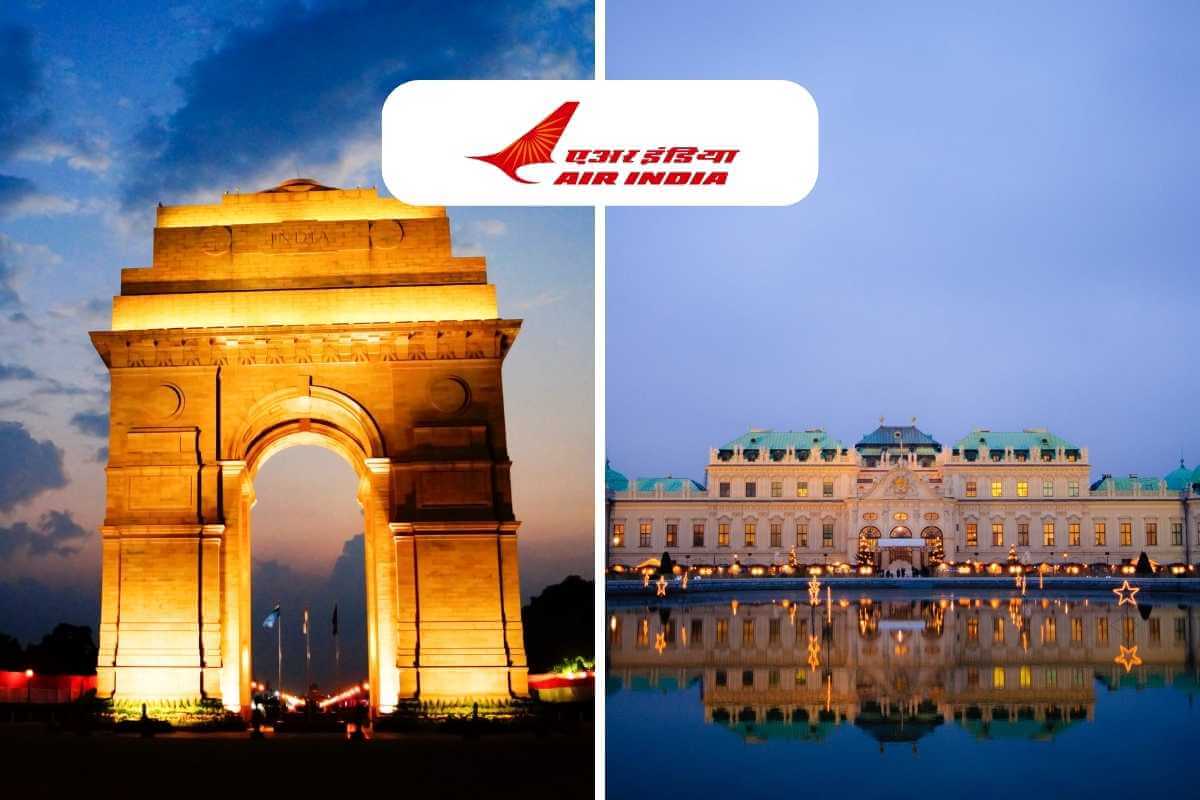 Air India, India's leading airline and a Star Alliance Member, resumed non-stop flights between Delhi and Vienna, the music city of Austria, on February 18, 2023. Air India used to operate on this International route earlier. However, following the outbreak of the COVID-19 pandemic, Air India suspended flights on the Delhi-Vienna-Delhi route in March 2020.
The reinstatement of this flight on the Delhi-Vienna-Delhi route, along with the recent resumption of flights to Milan and the service to Copenhagen, will bolster Air India's presence in Europe. The resumption of these flights aligns with Air India's goal of increasing international connectivity between India and other countries.
Visually Slide: Air India Resumes Delhi to Milan, Vienna and Copenhagen Direct Flights
Air India Delhi - Vienna Flight Schedule
Air India Flight AI153 now operates on Tuesdays, Thursdays, and Saturdays from Delhi, taking off at 14:35 Hrs and arriving in Vienna at 1845 Hrs (local time).
Boeing 787-8 Dreamliner Aircraft
The flight is operated by Air India's Boeing 787-8 Dreamliner aircraft with a two-class cabin configuration featuring 18 Business Class and 236 Economy Class seats. With the resumption of this service, Air India's India-Europe frequency has now increased to 69 non-stop flights per week.
Non-Stop Service Between Delhi and Vienna
By offering non-stop service between Delhi and Vienna, Air India is providing travellers from India with convenient access to several other popular destinations in the region, including Hungary, the Czech Republic, Germany, Italy, Switzerland, and France.
The sizable Indian diaspora in Austria, as well as Europeans planning to visit cities in the Indian subcontinent or travel onwards to destinations in South Asia, Southeast Asia, the Far East, and Australia, will benefit greatly from this non-stop service from Air India.
Delhi and Vienna Inauguration Ceremony
On February 18, 2023, Air India's Chief Customer Experience and Global Head of Ground Handling, Rajesh Dogra, along with senior executives from GMR and AISATS, inaugurated the Delhi-Vienna flight by lighting the ceremonial lamp and cutting the ribbon to mark the occasion.
Also Read: Air India to Acquire 470 Aircraft From Airbus, Boeing
Special Menu on inauguration Flight
Air India provided its customers with a specially curated menu for the inaugural flight on the Delhi-Vienna route. The flight was warmly received at Vienna Airport by dignitaries, including Jaideep Mazumdar, Indian Ambassador to Austria, who graced the occasion to commemorate the event. The return flight, AI 154, departed from Vienna with 255 guests and arrived back in Delhi on time at 8:05 am IST on February 19, 2023.