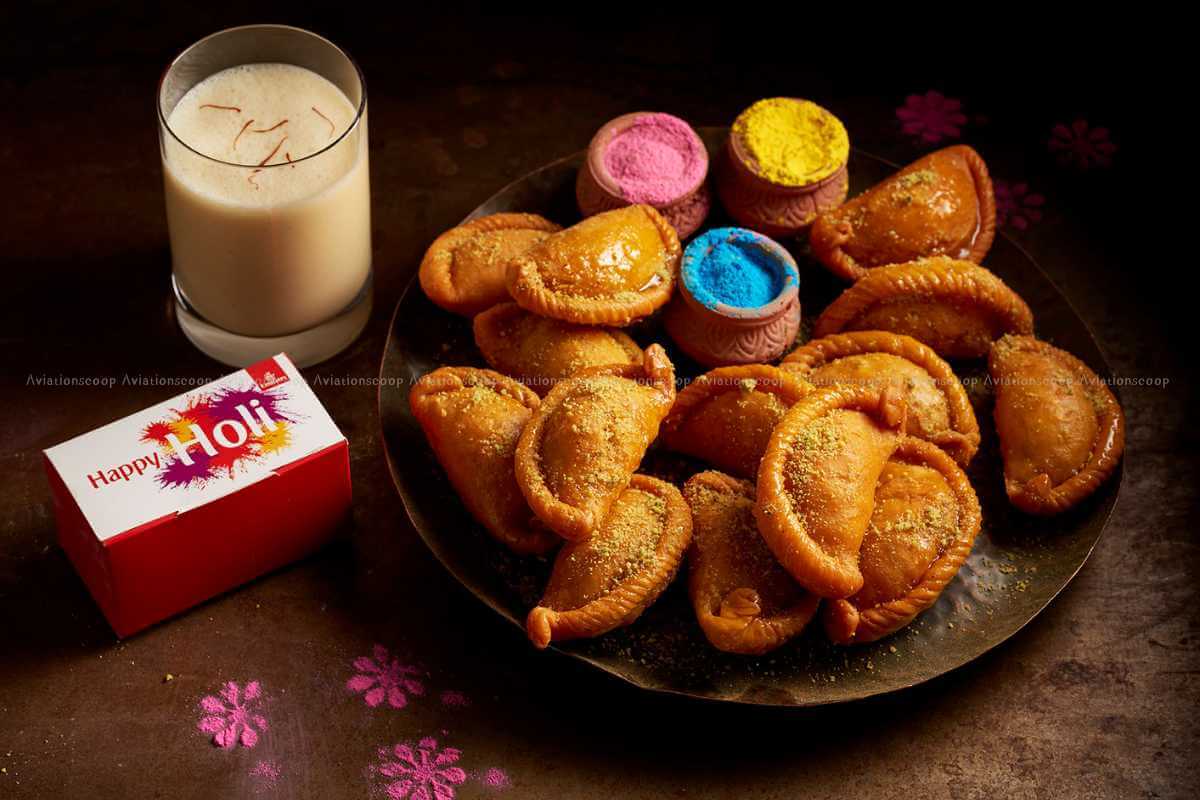 India is already preparing to celebrate the festival of colours, Holi, with great enthusiasm and joy. Emirates' 37 years in India, a journey defined by partnership and growth, connecting people and places, is filled with celebrations involving cultural diversity. So, on the occasion of Holi, Emirates is spreading the cheer by offering customers delightful surprises on board on March 07 and March 08, 2023.
Also Read: Emirates Celebrates Completing Two Decades of Service to Cochin
Emirates on Board Sweet Treats for Holi
Emirates First Class and Business Class customers on flights between Dubai and Mumbai, Bengaluru, Delhi, Hyderabad, Ahmedabad, Chennai, and Kolkata, can look forward to enjoying delectable Gujiya sweets, with khoya, nuts and dried fruits, delicately spiced with cardamom and rose water. A specially designed colourful box will be used to pack the sweet treats, commemorating the festival of colours.
Additionally, customers travelling in Economy Class can enjoy a Special delectable festive dessert to celebrate Holi.
Also Read: Emirates Supports the Desire for Plant-based Foods and Healthier Options on World Vegan Day
Traditional on Board Welcome
Furthermore, Premium customers travelling in First Class and Business Class travellers will be welcomed onboard in a traditional style, with a Thandai drink, chilled and creamy and infused with the delicate flavours of saffron, fennel, almonds, and rose petals.
Emirates says these traditional treats are an integral part of the festive spirit of Holi in India, and Emirates aims to bring the essence of Holi closer to its customers who are away from home by serving these delicacies onboard.
Also Read: Emirates Adds Five Boeing 777 Freighters to Its Cargo Fleet
Emirates Embraced Cultural Diversity
As a global leader in connecting people and places, Emirates says it has always celebrated cultural diversity and strives to provide unforgettable experiences for its customers.
Inflight Entertainment System (IFE)
Emirates passengers can fully immerse themselves in a world of entertainment onboard with the award-winning inflight entertainment system, ice, offering over 5,000 channels of content, live sports, and some of the latest Bollywood movies.
Emirates serves over 130 destinations across six continents and presently operates 167 flights per week from nine cities, namely Ahmedabad, Bengaluru, Chennai, Delhi, Hyderabad, Kochi, Kolkata, Mumbai, and Thiruvananthapuram to Dubai.