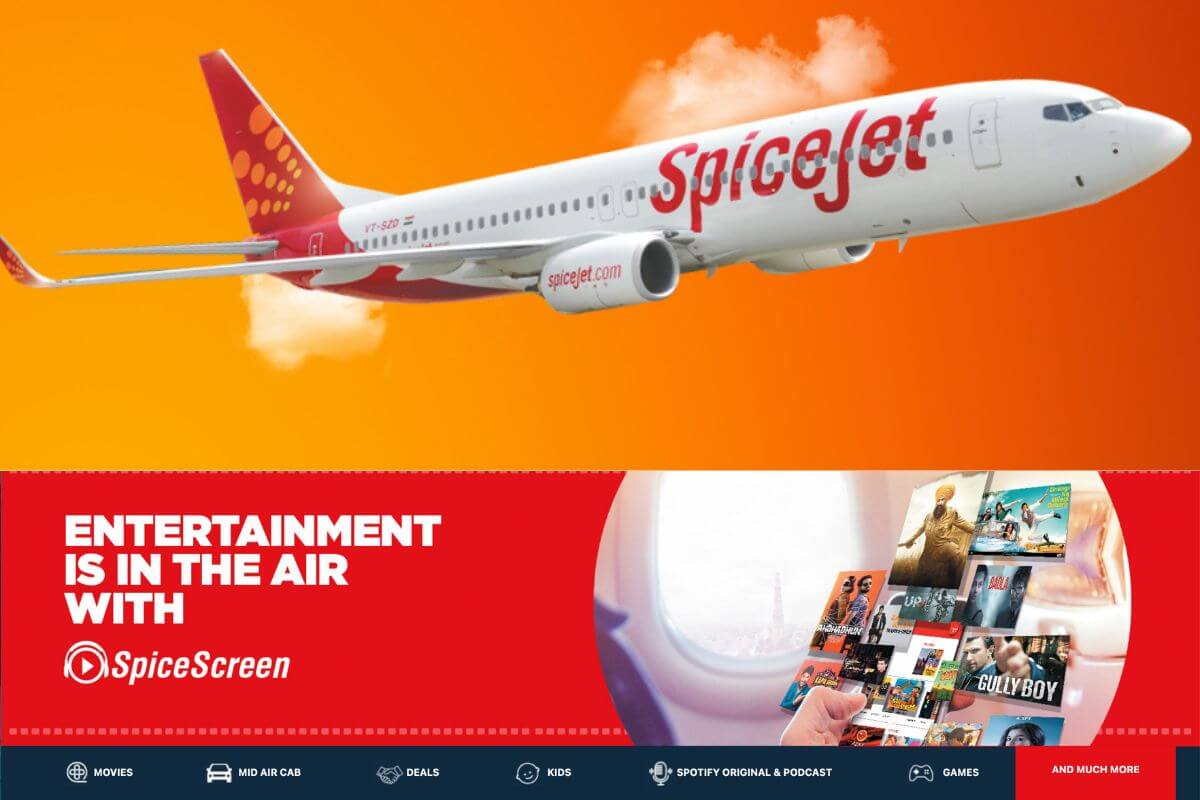 Not always do we get to load our devices with engaging content or offline media before we travel. What if we get to fly unexpectedly? We will be left with a device in Airplane mode and may feel bored if we are travelling alone. Also, not everyone would be comfortable with the IFE Screens and look forward to a personal viewing experience. Thanks to the innovative solution, 'SpiceScreen', SpiceJet's homegrown solution for In-Flight Entertainment. Read to know more.
SpiceScreen:
SpiceJet, India's favourite airline, launched 'SpiceScreen' - a complimentary in-flight entertainment system in August 2020. SpiceScreen is an enhanced version of the airline's existing in-flight entertainment, a first-of-its-kind, light-in-weight, wireless entertainment system that enables seamless delivery of content onto the personal devices of the passengers through the Wi-Fi network in Flight.
Passengers can access the in-flight entertainment system on any of their devices - a smartphone, tablet or laptop - by simply connecting to the onboard Wi-Fi network. The service is available across all SpiceJet flights. With such a facility, passengers can enjoy the content on their handheld devices with comfortable viewing angles.
How to Use SpiceScreen:
Flyers, once on board need to follow these simple steps:
Step 1: Enable Airplane Mode
Step 2: Enable Wi-Fi and connect to SpiceScreen Wi-Fi
Step 3: Open your favourite browser and visit spicescreen.com.
Although SpiceScreen service is unbiased, users are recommended to use the Chrome browser.
What SpiceScreen Offers?
SpiceScreen offers latest movies, stand-up acts, popular podcasts, amazing games, trip deals, destination videos, Spicy world and compelling regional content. Passengers can also book cab services from mid-air and shop using the Sky Mall service.
Cabs on the Fly:
For the first time, passengers can book mid-air cab bookings with 100% confirmed cabs, zero wait time, free cancellation, lowest fare with up to 10% discount, and closest pick-up point from the exit.
Steps to book a confirmed cab on your flight:
Step 1: Connect to SpiceScreen on your mobile device.
Step 2: Go to the CAB section on the homepage.
Step 3: Enter your mobile number and confirm your cab.
Things to Know:
Once the details are submitted, the cab booking is 100% confirmed.
SpiceJet passengers can book the cabs with the lowest fares with up to a 10% discount.
No cancellation fee will be levied if the cab is not boarded.
Passengers can check the fares on the booking page.
Sky Mall:
You can shop electronics & gadgets, jewellery, cosmetics, apparels, personal care, travel essentials, accessories and many more in the clouds using the Sky Mall service. Upon landing, a confirmation message will be sent to the passengers to complete the order. All payments are 'Cash on Delivery' basis.
SpiceJet recently launched Taxi Service:
With SpiceJet's Taxi Service, passengers can avail of 100% confirmed taxis, zero wait time, hassle-free travel, sanitized cabs, instant cashback, and zero cancellation charges.
Other Services from SpiceJet: 1. SpiceMax Benefits 2. Spice Assurance 3. SpiceJet Private Charter
Conclusion:
With SpiceJet's In-Flight Entertainment, passengers can sit back, relax and enjoy the SpiceScreen experience. Remember to carry your earphones with you!