Welcome back to our new edition of Airport updates, through which we try to cover various infra enhancements, facilities and services being made available at Airports to passengers and other miscellaneous updates.
You can check our previous edition of Airport updates by clicking here. This new edition is power packed with many updates, which happened since our last story, and we can't wait for you to read and know them all. Let's get into the updates.
1. Goa Airport:
Goa International Airport completes Required Navigation Performance (RNP) Procedure
In a feat, the Goa International Airport successfully completed the RNP procedure for both approaches - 10 and 28 - of the newly built runway at the upcoming New Goa International Airport. An Airbus 320 Aircraft of IndiGo was used in the testing and valdiation process. The testing of this Navigation Specifications will help operation of aircraft along a precise flight path with a high level of accuracy and the ability to determine the aircraft position with integrity and precision.
In another update, AAI's Goa International Airport at Dabolim will remain operational even after the newly built International Airport at Mopa is commissioned. With the completion of the Greenfield Airport in North Goa, this major tourist destination will now have two operational Airports.
Goa Airport witnessed inauguration of MUMBAI STREAT
Goa Airport continues to offer a variety of Food options to its guests. In such a development, a new food facility named MUMBAI STREAT was inaugurated at Domestic SHA at Goa International Airport on 7th Sep. Guests can avail Takeaway options, Buffer Thalis with Debit/Credit Card offers.
2. Hollongi Airport
Greenfield Airport Hollongi Airport Received Aerodrome License
The newly built Greenfield Hollongi Airport in Arunachal Pradesh has received Aerodrome License from the DGCA - License for public use for VFR (Day) operations. The new Aerodrome, meets reference Code 4C and is designed for aircraft operations of Airbus 320/A319 type or equivalent. You can read the details about Hollongi Airport by clicking here.
3. Tuticorin Airport
Tuticorin Airport is undergoing upgrades
To cater to rising passenger traffic, AAI's Tuticorin Airport in Tamil Nadu is undergoing major upgradation work with an estimated cost of the project around Rs 381 crore. You can read more details by clicking here.
4. Calicut Airport
Inauguration of Cafe, Restaurant at Calicut Airport
AAI's Calicut Airport recently witnessed the inauguration of a Food and Beverage Restaurant, 'The Pavillion', in the terminal building. This newly opened restaurant is expected to fulfill the requirements of passengers with its delectable Food, Beverages and Sports Entertainment. The Pavillion cafe and restaurant was opened under the F&B Master Concessionaire and provides a wide screening of Football matches along with local and International Cricket matches.
New Passenger Holding Area
A New Passenger holding area has been operationalised for Domestic passengers as a part of the betterment of facilities at the Calicut Airport.
New International SIM Card Counter
A New International SIM card counter was recently inaugurated at the Airport. The counter will provide round-the-clock services to guests, and Flyers travelling to various Gulf Cooperation Countries can purchase International SIM cards from this counter.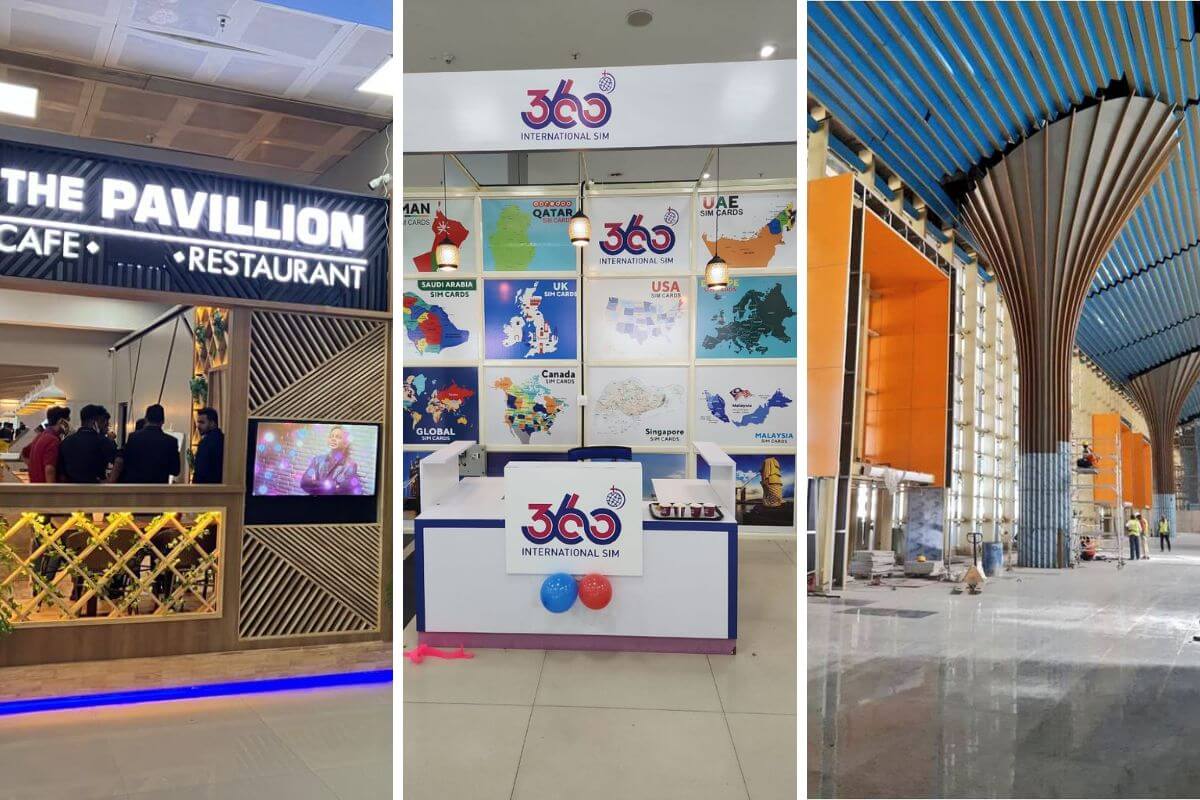 5. Raipur Airport
Raipur Airport Gets a New ATC Tower
In line with the vision of upgradation of facilities at AAI's Airports, the newly established ATC Tower at Raipur Airport stands 40.2 meters high on the south of the runway, and the terminal building has a 360-degree view, which is a salient advantage as it provides better airport visibility to ATCOs. It will also support the planned expansion of the airport in future. This new addition will enhance the safety of aircraft operations and has state-of-the-art technology and upgraded Air Traffic Systems.
6. Belagavi Airport
Belagavi Airport's Beautiful Garden and Surrounding Greenery
Next time you fly via Belagavi Airport, don't forget to click pictures of the Beautiful Garden on the City side, opposite the Terminal Building. Also, efforts carried out in the form of a Mass Plantation drive in 2019 and 2021 by various organisations are bearing fruits now as the area has become a mini forest and space for many butterflies and flowers at the Belagavi Airport. A unique case of over 13000 saplings planted around the airport.
Belagavi Airport's 6th SHG
Belagavi Airport witnessed the inauguration of its sixth Self-Help Group (SHG). The outlet is ready to showcase and sell various products, including Sarees and Handicraft items.
7. Airports Authority of India
Induction of e-Vehicles by AAI at various offices and airports
In line with its green initiatives, AAI has taken a step forward and is transitioning toward e-Mobility. AAI has inducted e-Vehicles at its various offices and airports, and e-Vehicle charging stations have been installed at its corporate office in Delhi, associated offices and airports across India.
8. Varanasi Airport
Full Fledged DigiYatra Experience at Varanasi Airport Soon
Full Fledged DigiYatra is expected to go live very soon at AAI's Varanasi Airport. Passengers flying with IndiGo can avail this facility, which is in its final trial phase, by downloading the DigiYatra app from google play store and registering before reaching the airport.
New ATC Tower at AAI's Varanasi Airport
Varanasi Airport gets a new ATC Tower, which stands 31.4 meters high, and the total Air Traffic Service area is 5570 sq meters. The old building was constructed more than 50 years back and has outlived its life. The new ATC tower has a 360-degree view and provides better airport visibility to ATCOs.
9. Jammu Airport
Jammu Airport Witnessed the Inauguration of SHG
In line with its commitment to promoting and encouraging the talents of women artisans and local craftsmen, AAI's Jammu Airport witnessed the inauguration of a new Self Help Group. The outlet was allocated to a local SHG, 'Nari Shakti'. AAI's initiative, AVSAR Scheme, provides promotional avenues for the local artisans to display and sell their handmade, traditional crafts through AAI's airports.
10. Chennai Airport
Chennai Airport Modernisation nearing completion
Chennai Airport modernisation phase 2 (T-2) is nearing completion, and here are a few updates for you. The modernisation work of the Airport will not only provide world-class facilities to passengers but also would enable the Airport to serve 35 million passengers per year.
The new terminal will reflect aesthetic elements taken the Rich cultural repository of Tamil Nadu. The design of the roof gives the structure an exemplary stance, derived from the iconic Bharatanatyam. The wavy roofing replicates the pleated costume that fans out attractively during dancer movements. The building also boasts organic-shaped feature columns designed to create the visual effect of a tree.
11. Bhopal Airport
Cab Booking Counter at Bhopal Airport
Uber started a booking counter at the Bhopal Airport to facilitate passengers with safe, secure and inexpensive Cab Booking Services.
12. Imphal Airport
Ambulift Service at Imphal Airport
Ambulift service is available at Imphal Airport at a nominal charge of Rs.100 (Inclusive of GST) per usage to all airlines for the empowerment of Passengers with Reduced Mobility (PRM) or any other emergencies.
13. Hubbali Airport
Medical Inspection Room Facility at Hubbali Airport
Inauguration of Medical Inspection facility happened recently at Hubbali Airport. This facility, established in collaboration with RaDon Cancer Center, will aid in managing medical crises and enhancing passenger convenience at Hubballi Airport.
14. Shillong Airport
SIKMIK Retail Store at Shillong Airport
Shillong airport gets a new retail shop. Green Gold Retail shop on the brand name of SIKMIK recently started at Shillong Airport in Departure Area. Guests can shop various handmade and craft items of North East region.
15. National Tourism Awards 2018-19
Airports Authority of India's Netaji Subhas Chandra Bose International Airport, Kolkata and Devi Ahilya Bai Holkar Airport, Indore were conferred with the prestigious National Tourism Awards 2018-2019 at a glittering award function organized by the Ministry of Tourism on 28th Sep to mark the World Tourism Day 2022.
AAI's Kolkata Airport bagged the National Tourism Award 2018-2019 under the category - Best Tourist Friendly Airport in Class X (metro) cities, and Indore Airport bagged the National Tourism Award 2018-2019 under the category - Best Tourist-friendly Airport - Rest of India.
This award represents the recognition of efforts toward providing tourist-friendly amenities at these Airports and for the significant contributions in promoting tourism.
16. Chandigarh Airport
Chandigarh International Airport Named as Shaheed Bhagat Singh International Airport
To give a perfect tribute to one of the greatest freedom fighters of India, Shaheed Bhagat Singh, on his 115th birth anniversary, Chandigarh International airport was named - Shaheed Bhagat Singh International Airport, Chandigarh on 28th Sep. A plaque was unveiled by Finance minister Smt. Nirmala Sitharaman in the presence of Governors of Punjab, Haryana and other dignitaries. The demand to change the name of Chandigarh Airport after Shaheed Bhagat Singh was long pending, and the naming of the Airport marks a prestigious moment for the Nation.
That's it in our 5th edition of Airport Updates for you! Stay Safe, and please follow all appropriate protocols and make flying safe for everyone.