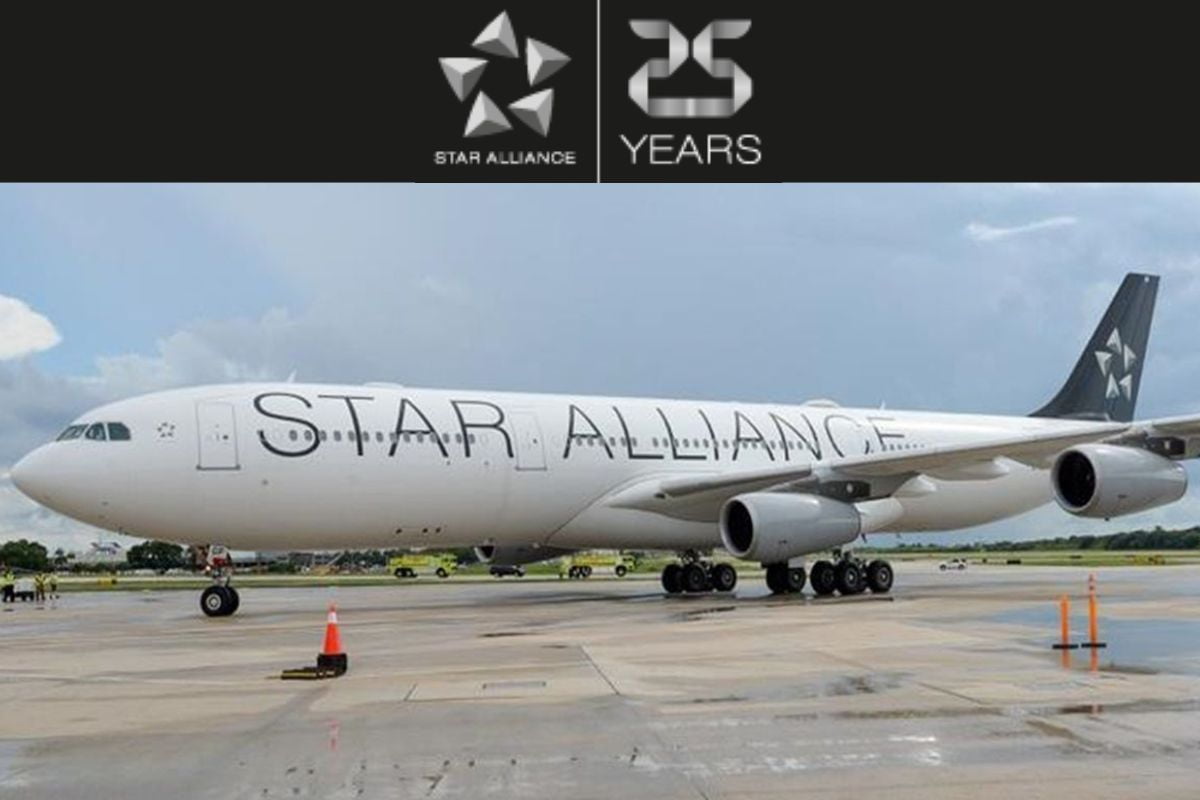 Star Alliance - you might have noticed it while reading the news or booking tickets on the respective airline's website, where specific airlines assert membership in the Alliance. If you are from India, you may have read our stories citing Air India as a Star Alliance member. What exactly is Star Alliance, and what are the benefits you as a customer can enjoy if an airline is part of this Alliance? Let's see the answers to these questions in this story.
Airline Alliance:
By joining an alliance, airlines can offer passengers flights to destinations that they do not fly to and, at the same time, make business. For customers, it also allows them to book a single ticket on multiple flights and airlines and have the luggage transferred to their final destination.
What is Star Alliance:
In 1997, five airlines from the Americas, Asia and Europe founded Star Alliance as the first global aviation alliance. Today, the Alliance has grown to include 26 member airlines and has expanded to offer connectivity in Africa, Latin America, and Oceania.
The strategy of Alliance:
Star Alliance's strategy is to be the most digitally advanced global airline alliance, delivering seamless travel experiences with a loyalty proposition that stands apart.
25th Anniversary:
Star Alliance member carriers celebrated the 25th anniversary of the world's first and leading global airline alliance on Saturday, 14 May 2022. In conjunction with the anniversary, the Alliance unveiled a new brand tagline, "Together. Better. Connected."
HQ:
Based in Frankfurt, Germany, and Singapore, the management coordinates Star Alliance projects and activities, which include airport co-location, digital infrastructure, frequent flyer integration, joint business lounge projects, and other services to improve the travel experience.
Star Alliance Member Airlines:
Star Alliance member airlines include many of the world's top aviation companies as well as smaller, more regional carriers, offering easy connections to almost any destination in the world. Different airlines from different parts of the world mean bringing rich diversity and multiculturalism to the Alliance.
The list of 26 member airlines is as below, and these airlines come together at over 50 global hubs to offer smooth connections across a world-leading global network. (F) represents Founding Member.
Sl. No
Airline
Joined Star Alliance
Airline Country
Frequent Flyer Programme
Month
Year
1
Aegean Airlines
June
2010
Greece's largest full-service airline
Miles+Bonus
2
Air Canada (F)
May
1997
Canada's largest domestic and international airline
Aeroplan
3
Air China
December
2007
National flag carrier of China
PhoenixMiles
4
Air India
July
2014
India's national airline
Flying Returns
5
Air New Zealand
May
1999
Flag carrier airline of New Zealand
Airpoints
6
ANA
October
1999
Japan
ANA Mileage Club
7
Asiana Airlines
March
2003
South Korean airline
Asiana Club
8
Austrian Airlines
March
2000
Austria's largest carrier
Miles & More
9
Avianca
June
2012
Colombian airline
LifeMiles
10
Brussels Airlines
December
2009
Leading Belgian airline
Miles & More
11
Copa Airlines
June
2012
Flag carrier of Panama
ConnectMiles
12
Croatia Airlines
December
2004
Croatian flag carrier
Miles & More
13
EGYPTAIR
July
2008
National airline of Egypt
EGYPTAIR Plus
14
Ethiopian Airlines
December
2011
Flag carrier of Ethiopia
ShebaMiles
15
EVA Air
June
2013
Taiwanese international airline
Infinity MileageLands
16
LOT Polish Airlines
October
2003
Flag carrier of Poland
Miles & More
17
Lufthansa (F)
May
1997
Flag carrier of Germany
Miles & More
18
Scandinavian Airlines (F)
May
1997
Scandinavia's leading airline
EuroBonus
19
Shenzhen Airlines
November
2012
China
PhoenixMiles
20
Singapore Airlines
April
2000
Flag carrier airline of Singapore
KrisFlyer
21
South African Airways
April
2006
Leading carrier in Africa
SAA Voyager
22
Swiss
April
2006
Flag carrier of Switzerland
Miles & More
23
TAP Air Portugal
March
2005
Leading Portuguese airline
TAP Miles & Go
24
Thai Airways International (F)
May
1997
Designated national carrier of the Kingdom of Thailand
Royal Orchid Plus
25
Turkish Airlines
April
2008
Flag carrier airline of Turkey
Miles & Smiles
26
United (F)
May
1997
Major American airline
MileagePlus
Benefits to Customers:
1. Connectivity
The Star Alliance network currently offers more than 10,000 daily flights to over 1,200 airports in 184 countries. Further connecting flights are offered by Star Alliance Connecting Partners, Juneyao Airlines and THAI Smile Airways.
2. Frequent Flyers
The more you fly on the Star Alliance network, the faster you will earn miles or points to redeem for a reward ticket or upgrade.
There is no separate Star Alliance frequent flyer programme. You can join one of the programmes offered by the member airlines, and the membership will give you full access to the whole Star Alliance network, with no need to register for any additional programme.
Whenever you fly with one of the member airlines, provide your frequent flyer number when booking your flight or when checking in, and the miles or points will be credited to your account automatically based on eligibility.
Star Alliance Silver and Star Alliance Gold:
The higher tier status levels of each of the Star Alliance member airlines' frequent flyer programmes are mapped against the two uniformly recognised Star Alliance status levels, Star Alliance Silver and Star Alliance Gold. These two status levels entitle you to enjoy special Star Alliance premium customer benefits and privileges.
| | | | |
| --- | --- | --- | --- |
| Sl. No | Recognition Benefits | Tier | Description |
| 1 | Priority Airport Check-in | Gold | Avoid the queues at check-in by going to the Priority counters, where available. Just look for the Star Alliance Gold sign. |
| 2 | Priority Baggage Handling | Gold | Your bags are among the first on the belt, so you can move on quickly. |
| 3 | Airport Lounge Access | Gold | Escape the crowds in over 1,000 lounges world-wide when you fly on a member airline flight. |
| 4 | Priority Boarding | Gold | Board at your convenience with First Class and Business Class passengers where this is offered at the gate. |
| 5 | Extra Baggage Allowance | Gold | You can take an extra 20 kg (44 pounds) where the weight concept applies or an extra piece where the piece concept applies. |
| 6 | Gold Track | Gold | Move more smoothly through airport security and Immigration by utilising exclusive Gold Track priority lanes. |
| 7 | Priority Reservations Waitlist | Gold and Silver | If at the time of reservation, seats in your desired class of service are not available, your status gives you higher priority on the waitlist when a reservation is possible, except when you are travelling on an award ticket. |
| 8 | Priority Airport Stand-by | Gold and Silver | If your travel plans change and flights are full, your status gives you higher priority on the standby list for your preferred flight, except when you are travelling on an award ticket. |
| | More Benefits | | |
| 9 | Heathrow Express Upgrades | | Get a free upgrade to Business First Class on the Heathrow Express. |
3. Star Alliance Lounges worldwide
Star Alliance and its member airlines offer access to more than 1,000 lounges worldwide, giving you a quiet and exclusive space to work or relax before your flight.
If you are a Star Alliance Gold member, you can visit any lounge with a Star Alliance Gold logo at the entrance before your flight, operated by a Star Alliance member airline. Even if you are not a Gold member, you can still gain access to a lounge if you are travelling on a member airline in international First Class or Business Class.
In addition to member airlines' lounges, Star Alliance also offer a small set of exclusive Star Alliance branded lounges. These Lounges are listed below for your ease:
| | | |
| --- | --- | --- |
| Sl. No | Star Alliance Lounge | Notes |
| 1 | Amsterdam (AMS) Lounge | |
| 2 | Rome (FCO) Lounge | |
| 3 | Rio de Janeiro (GIG) Lounge | Paid lounge access is available now |
| 4 | Buenos Aires (EZE) Lounge | Paid lounge access is available now |
| 5 | Paris (CDG) Lounge | |
| 6 | Los Angeles (LAX) Lounge | Paid lounge access is available now |
4. Gold Track
Security/Immigration
The Star Alliance Gold benefit allows you to proceed quicker through security/Immigration by using dedicated lanes.
Gold Track Security is currently available at more than 150 locations globally and is being rolled out airport by airport across the Star Alliance's network.
Who Can Avail:
All Star Alliance Gold Customers (including those travelling in Economy Class) and customers in First or Business Class on a flight operated by a Star Alliance member airline are eligible for Star Alliance Gold Track access*.
How to Avail the Service?
Simply present your boarding pass to use the security/Immigration fast lane service.
Gold Track Immigration is available at:
Sl. No
Airport
Terminal
Look for
Available for*
1
ADD
(Addis Ababa)
Terminal 1 & 2
Gold Track Immigration
DEP+ARR
2
AMS
(Amsterdam)
Hall 1 & 3
Priority Lane
DEP
3
AUH
(Abu Dhabi)
Terminal 1 & 2
Fast Track
DEP+ARR
4
BNE
(Brisbane)
International Departures
Express Path
DEP
5
CAI
(Cairo)
Terminal 3
Gold Track Immigration
DEP+ARR
6
CDG
(Paris)
Terminal 2B&C
Access No. 1
DEP
7
IST
(Istanbul)
Main Terminal (TK only)
Turkish Airlines Premium Lane
DEP
8
MEL
(Melbourne)
Terminal 2
Express Path
DEP
9
PTY
(Panama City)
Main Terminal
Gold Track Immigration
DEP
10
SAW
(Istanbul)
International Departures
CIP & Fast Track
DEP
11
SYD
(Sydney)
Terminal 1
Express Path
DEP
5. Round the World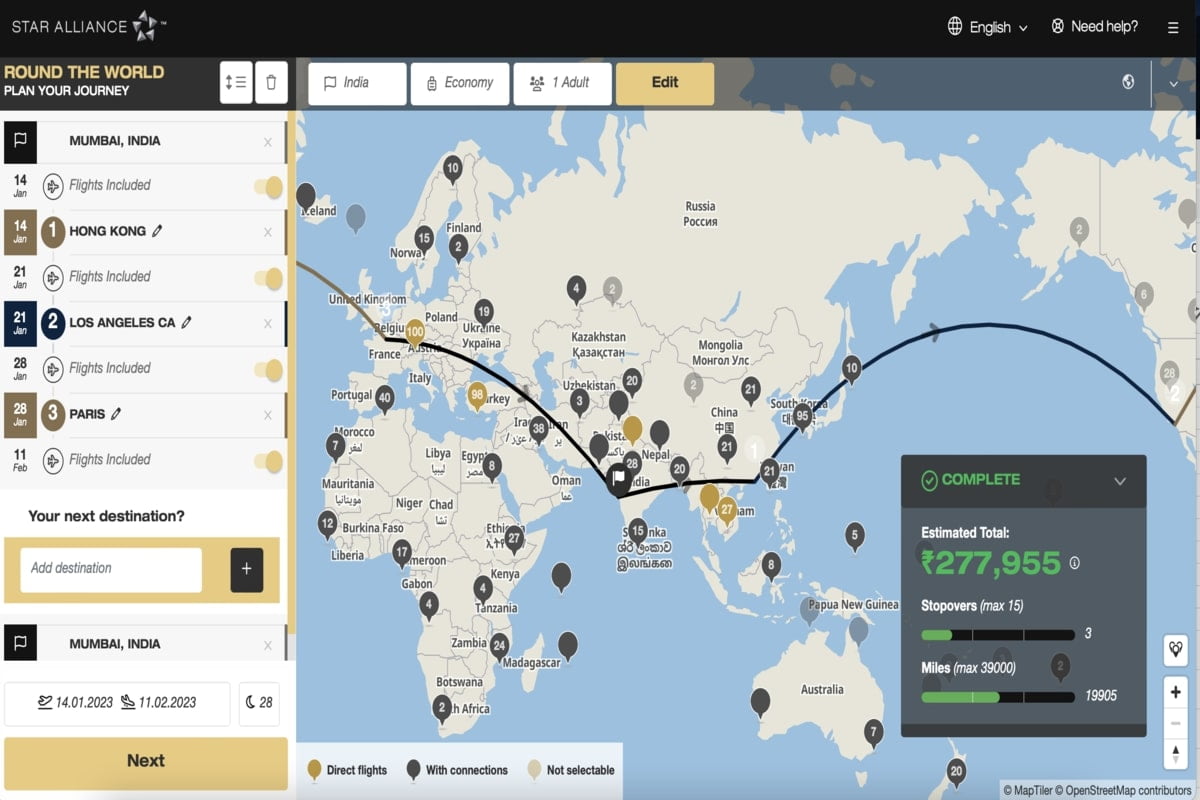 With this flexible fare that offers outstanding value for money, you can visit 98 percent of the world's countries with one ticket. Over 1300 destinations in more than 190 countries. With Round the World Fare, buying a multi-destination ticket has never been simpler.
Round the World Ticket:
Single ticket valid on all Star Alliance members
The journey must start and end in the same country
Follow one global direction (East or West)
Checklist:
Have minimum 2 stops
Cross the Atlantic Ocean once
Cross the Pacific Ocean once
Flexibility:
Duration of stay: 3 days to 1 year
Rebooking Fee: Free
Between 2 and 15 stops
Maximum Flight Coupons: 16
How to Book Round the World Ticket:
Step 1: Select Your Destinations
Step 2: Flight Selection
Step 3: Enter Your Details
Step 4: Click To Pay
6. Circle Pacific
With Circle Pacific Fare, you can travel to over 85 destinations in more than 25 countries/regions served by the alliance network.
One Circle Pacific fare:
Single ticket valid on 12 Star Alliance members
The journey must start and end in the same country
A Circle Pacific journey touches 3 points in the Pacific Ocean
16 flight coupons with a choice of more than 85 airports in 25 countries/regions
Checklist:
Have minimum 3 stops
Must include stopovers in each of the three areas (Asia, North America, South West Pacific)
Start and end in the same country
Flexibility:
Duration of stay: 7 days to 6 months
Rebooking Fee: Free
Between 3 and 15 stops
Maximum Flight Coupons: 16
Book and Fly Online Tool:
The Book and Fly tool helps you plan your travel itinerary according to the checklist and flexibility rules.
Features of the Tool:
Quotes the applicable fares as book the ticket
You can drag and drop the destinations
Available in English, Japanese, German, French, Spanish, Portuguese and Chinese
Save, email, print or share your journey.
Themed Trip Planning:
The Book and Fly online tool will help in themed trip itineraries (Romantic Journey, World Food, Iconic Film Locations, Cultural Experiences etc.) and offer routes accordingly.
Accrue Miles and Points:
Another good thing is that with Round the World Ticket fare/Circle Pacific fare, you can earn miles and points in your frequent flyer programme.
7. Corporate Plus
Star Alliance Corporate Plus offers the network of several member airlines through a single point of contact and just one agreement reflecting your company's consolidated travel budget. Hence, offering an all-in-one solution for global business travel.
| | |
| --- | --- |
| Sl. No | Corporate Plus Benefits |
| 1 | One global network |
| 2 | A single point of contact |
| 3 | One single contract |
| 4 | A single report |
| 5 | Lower costs |
| 6 | Regional focus, Brazil, China, Korea |
Things to Know:
Gold Track: *Exceptions at certain airports may apply
Lounge access depends on your flight ticket and class of travel or your frequent flyer status.
Star Alliance provides a Lounge Finder tool to identify those lounges you will have access to before a specific flight departure. Arrival lounge access is not a Star Alliance benefit.
Round the World: You are allowed a minimum of 2 and a maximum of 15 stopovers. A stopover lasts for 24 hours or more between two flights while transfers are less than 24 hours. You don't need to worry about these rules, as the online booking tool will help you validate and book tickets.
You can retroactively get the credit for the miles via your frequent flyer programme if you forgot to enter your frequent flyer number.
Also Read: Air India Flying Returns: India's First Frequent Flyer Programme Explained
T&C:
Other terms and conditions apply; For detailed terms and conditions, you can check with the frequent flyer program of the respective member airline.
Conclusion:
Now that you know the benefits of Star Alliance Membership and other details, the next time you plan a world tour, you may take advantage of the benefits the Alliance provides.